Hot air fryer recipe:
Burgers - the American Diner at home
Nowadays a tasty bite for friends or family can be prepared without having to be in the kitchen for a long time. In a fast, smart and safe way you can make delicious cheeseburgers. In the meantime, you can just continue your conversation and the hot air fryer will do the heavy work.
Ingredients:
- 4-6 burgers
---
- 4-6 Italian buns
---
- Slices of cheddar cheese
---
- 2/3 tomatoes
---
- 2/3 Red onions
---
- 200 grams of lettuce
---
- Sauces of your choice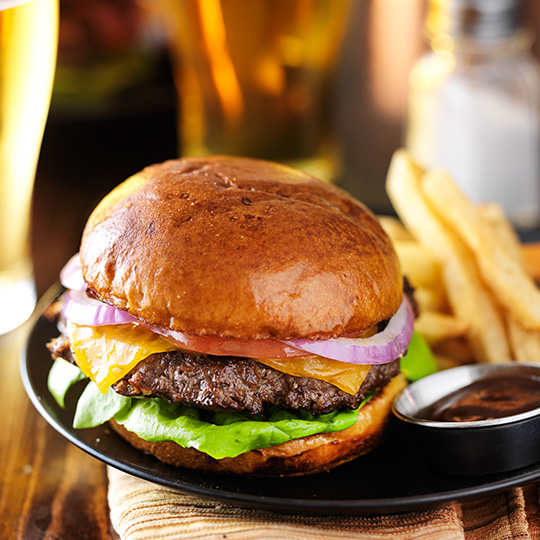 Preparation
Preheat the hot air fryer to 180 - 200 degrees. The best setting can be seen on the packaging of the relevant buns. Put the buns in the basket, 3 or 4 at a time and bake them for 5 minutes.
Whether you made the burgers yourself or scored them pre-packaged, within 8 minutes at 180 degrees you have a tasty juicy burger. After 3 minutes add the onion cut into rings so that they can cook with the burgers for 3 minutes.
Tip! In the last minute, place the cheddar cheese on the burger so that it melts.
Cut the buns open, fill the bottom part with lettuce, add slices of tomato and of course your delicious burger with cheddar cheese and the cooked onions. And - add one or two sauces of preference to it.

Enjoy
Serve your delicious cheeseburgers within 15 to 20 minutes!
---
This dish is easily made with one of our Nedis® hot air fryers.