HDMI ARC and HDMI eARC
HDMI ARC made the installation of a soundbar a lot easier, but this is not without limitations. With the arrival of HDMI eARC, most of these limitations are gone and you can now always enjoy the best sound quality for your TV. How does that work and what do you need for it?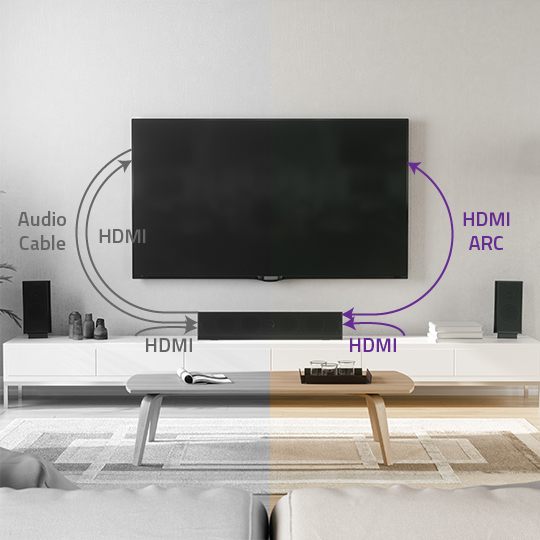 What is HDMI ARC?
ARC stands for Audio Return Channel. HDMI ARC is the only output on your TV that not only receives signals, but also transmits signals. You can, for example, control the sound of your soundbar by using your TV remote control. So, one less cable is needed to connect your audio receiver to your TV. Previously, you could only send a video or an audio signal with an HDMI cable and you needed a specific audio cable from your TV to your sound system. With HDMI ARC, audio signals from a TV are sent back to the AV receiver or soundbar. This means you only need one cable for image and sound. So the HDMI-ARC cable works in two directions.
What is HDMI eARC?
ARC stands for Enhanced Audio Return Channel. HDMI eARC is part of the HDMI 2.1 specifications.
eARC is a new improved version of ARC and has three main changes:
eARC can transport much more data, allowing you to use all modern audio formats
eARC uses a new communication mechanism that works more reliably
eARC also mandates the use of lip-sync information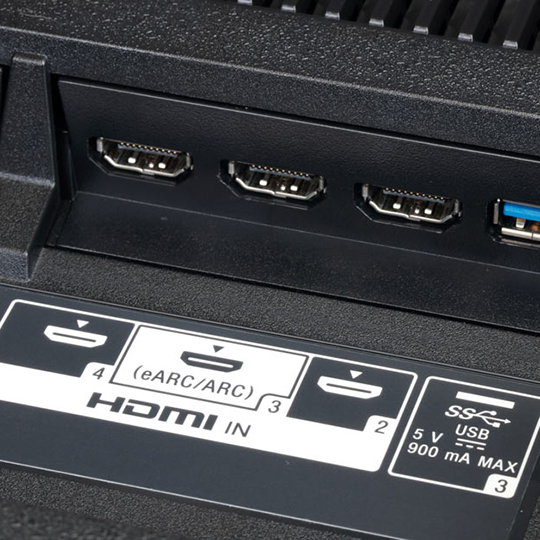 What is eARC and how is it different from ARC?
HDMI eARC is ready for high-resolution audio. The most obvious improvement is that you can now use eARC for audio formats that guarantee the very best quality. These audio formats are Dolby Digital Plus, Dolby Digital True HD, DTS-HD Master Audio, and the latest expansions such as DTS: X and Dolby Atmos. This was not possible via the HDMI ARC connection. The extension even guarantees support for just about every possible future audio format.
Additional benefit of HDMI eARC
Next to all technical improvements, like speed, HDMI eARC offers another advantage. You can connect all your sources back to the TV. Then all audio, regardless of quality, can be sent to the soundbar or AV receiver via eARC. Why is that so useful? Now we often connect our sources to the AV receiver or soundbar instead of the TV. Seems logical, but your sound solution must evolve along with the image standards. Suppose you have a soundbar that perfectly meets your needs, but that does not recognize HDR from your game console. You could connect the game console to the TV, but then you sacrifice audio quality. This is not the case with eARC. You connect the source to TV and if a new image format is used, your soundbar does not need to know anything about it. And you don't compromise on sound quality, because eARC can transport all modern formats.
What do you need to use eARC?
Of course, both the TV and the soundbar or AV receiver you use must both be equipped with at least one HDMI connection that supports eARC. The older ARC works with all HDMI cables, but for the new eARC you must have another type of cable. If you want to benefit from the best results, we advise you to use our Ultra-High-Speed HDMI Cables.
Discover our Ultra-High-Speed HDMI Cables
What if...
What if you have a PS5 game console or 4K Apple TV (or similar device) and a new soundbar with eARC, but your current 4K TV doesn't support eARC, so you can't get the uncompressed 7.1/5.1 Atmos? What if you have a PS5 game console or 4K Apple TV and a new soundbar with eARC but your current projector doesn't support ARC / eARC or don't have any HDMI input? For all these user groups we offer a solution with our new eARC splitters.