Nedis® Bluetooth® speakers
a smooth way for audio play
With the simplicity of streaming music via your smartphone, anyone can easily enjoy and turn up their favourite tunes with a Bluetooth® speaker. Still it is not just about the device or even the music. The Bluetooth® speaker is a part of daily life, a reflection of personal lifestyle and individual preferences.
The look, feel and specs are just as important for the complete experience, as the technique included in the speakers.Nedis understands this and added different sizes, designs and features in our line-up of Bluetooth® speakers.

Bluetooth® is a technique used in more than three billion devices worldwide.
Bluetooth® Audio
Let everyone enjoy their favourite tunes through speakers that are portable and lightweight, without the limitations of an electricity cable. With a playtime of several hours audio can go on without many moments of charging. Nedis® Bluetooth® speakers will fit a busy, sportive, fun, family and well any kind of lifestyle really!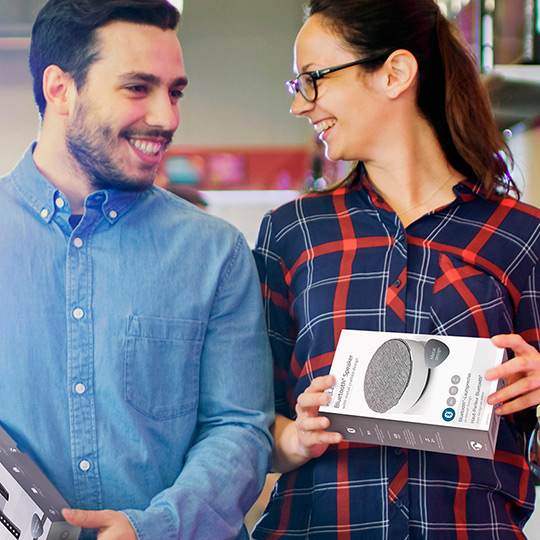 Type of features
Small, lightweight and wireless
Whether someone is going to the beach, singing their heart out in the shower, dancing in the kitchen or is organizing a late BBQ that can use a musical boost? It doesn't matter, they can always find the perfect fit. Pick from different sizes and weights. Either go for a small speaker that is portable or choose a bigger robust appliance that is somewhat heavier, but just as easy to use.
After charging the Bluetooth® speakers you can listen to a playlist wirelessly for hours thanks to an implemented battery. The number of hours can depend per series. The speakers can also always be left plugged in so one can enjoy music endlessly.
Learn more about these features
TWS
Some of our speakers support True Wireless Stereo. This feature gives you the possibility to connect up to two speakers! A smartphone - or any other device that is used to connect for streaming, can recognize the two Bluetooth® speakers as 'one' appliance and therefore it is possible to play the same song at the same time, from two speakers. Provide a living room, other places in the house or even the garden with TWS Bluetooth® speakers and create a stereo experience. Enjoy audio to its fullest!
Built-in microphone
Some speakers include a built-in microphone. Thanks to this feature the user also has the possibility to make a phone call through the speaker! Call friends or family easily with the equipped speakers or even have a group chat with multiple persons around the speaker.
Waterproof
A few raindrops won't stop the party and no need to worry about humid spaces, like the bathroom. Nedis® offers a range of IPX4, IPX5 and IPX7 waterproof speakers. Which means it can be suitable for different types of water resistance levels; from splashes of water, to drops when it is raining. With the different degrees of IP (International Protection Marking) you can easily find the water resistance level that you are looking for.