Ergonomic Arm Rest | Swivel | Desktop | with Mouse Pad | Metal
Computer/Ergonomic Office/Accessories
Ergonomic Arm Rest | Swivel | Desktop | with Mouse Pad | Metal
Brand: Nedis
Article number: ERGOCAR100ME
EAN number: 5412810304325
Ergonomic Arm Rest | Swivel | Desktop | with Mouse Pad | Metal
Vendor Part Number: ERGOCAR100ME
EAN number: 5412810304325
This Nedis® ergonomic arm rest offers comfort and support when you are using your mouse. Its design reduces the pressure placed on your wrist and shoulder.
Features
• Detachable mouse pad and three pivot points - to position exactly where needed • Two adjustable hinges - to achieve optimum comfort for your arm • Padded arm support • Suitable for desks with a thickness of up to 4.5 cm
Others also bought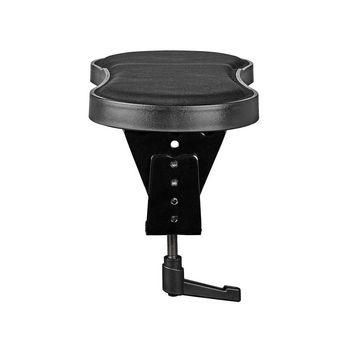 Ergonomic Arm Rest | Full Motion | Desktop | with...
Package contents
Arm support
Product specifications
Appliance
Office
Home Desktop

Colour
Black/Aluminium

Number of pivot points
3

Feature
Adjustable Arm
Adjustable Angle
Ergonomic
Padded Arm Support

Material
Aluminium Alloy / Plastic

Need help with this product?
Datasheet
Please contact our support team for an answer to your question.
Get in touch
You may be also interested in these product(s)