USB-C Adapter | USB-C Male - 3.5 mm Female + USB-C Female | 0.15 m | Black
Connectivity/Audio/Adapters
USB-C Adapter | USB-C Male - 3.5 mm Female + USB-C Female | 0.15 m | Black
Brand: Nedis
Article number: CCBP65955BK015
EAN number: 5412810312979
USB-C Adapter | USB-C Male - 3.5 mm Female + USB-C Female | 0.15 m | Black
Vendor Part Number: CCBP65955BK015
EAN number: 5412810312979
Connect your headphones to your smartphone or tablet with this Nedis® audio adapter cable and charge it at the same time.
Features
• Compatible with most USB-C devices
Others also bought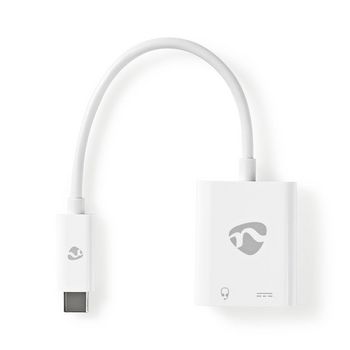 USB-C Adapter | USB-C Male - 3.5 mm Female +...
Package contents
Audio adapter cable
Product specifications
Colour
Black

Outside material
PVC

Audio type
Stereo

Connection B
3.5 mm Female
USB-C™ Female

Connector design - side A
Straight

Connector design - side B
Straight

Packaging
Polybag

Diameter
3.5 mm

Plating
Gold/Nickel

Cable type
USB

Conductor material
Tinned Copper

Connection A
USB-C™ Male

Material
ABS / PVC

Adapter design
Straight

AWG value
34 / 24

Connection A & B
USB-C™ Male - 3.5 mm Female / USB-C™ Female

Cable length
0.15 m

Need help with this product?
Datasheet
Please contact our support team for an answer to your question.
Get in touch
You may be also interested in these product(s)