Cables and Adapters/Computer and Network/USB Adapters and Docking
USB Hub
USB-A Male | 4x USB A Female | 4 port(s) | USB 2.0 / USB 3.2 Gen 1 | USB Powered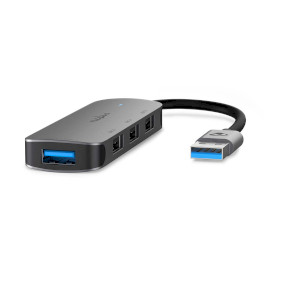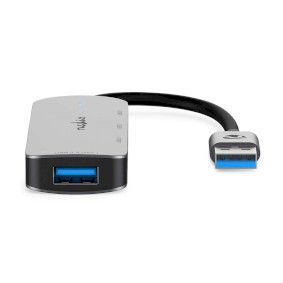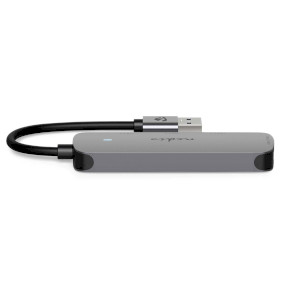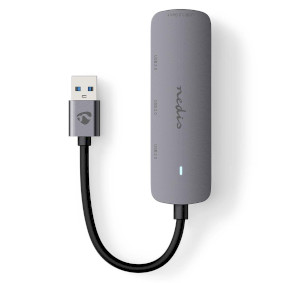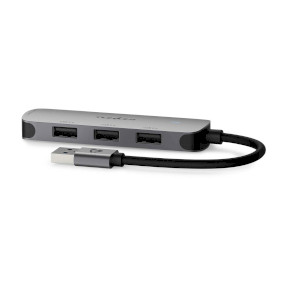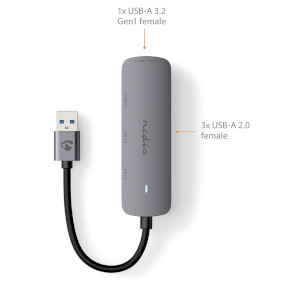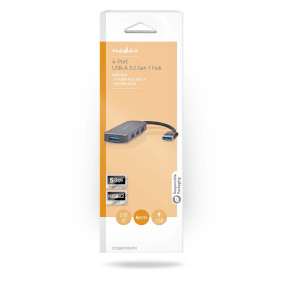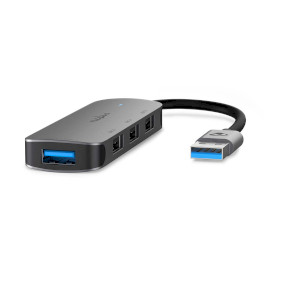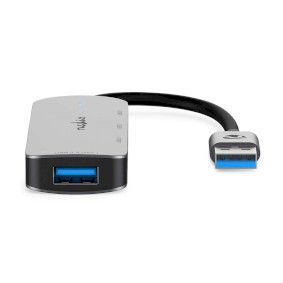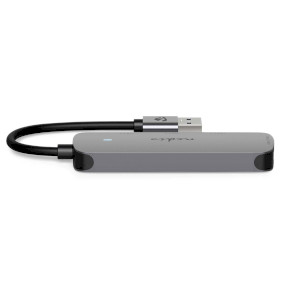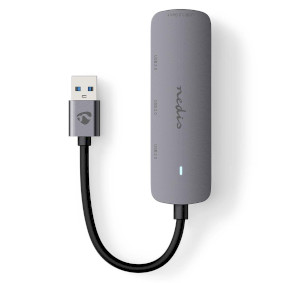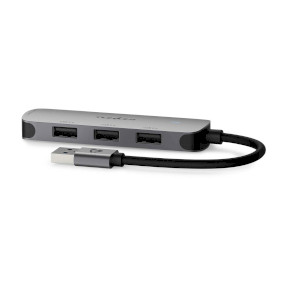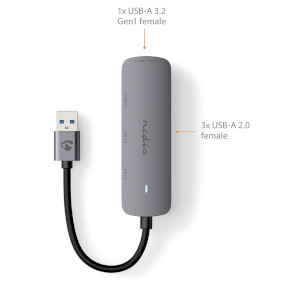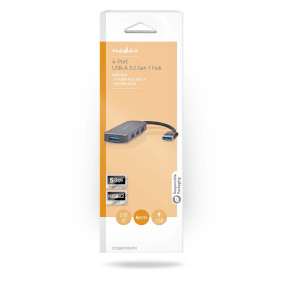 Features
Vendor Part Number: CCGB61210GY01
EAN number: 5412810415458
• Enrich your computer with 4 extra USB-A ports
• 1x USB-A 3.2 Gen 1 port with Superspeed data transfer up to 5 Gbps - HD movies can be transferred in seconds
• 3x USB-A 2.0 Ports to connect your 2.0 devices like Mouse, keyboard, etc. with 480 Mbps data transfer
• USB-A Powered so no power adapter is needed




This Nedis USB Hub is equipped with 1x USB-A 3.2 Gen 1 port and 3x USB 2.0 ports.

Simply connect this device to your USB-A socket of your Notebook or Laptop and instantly have 4 USB-A ports to connect all your existing USB-A devices to. Once connected, your notebook or Laptop will have 1 x USB-A 3.2 Gen 1 port which supports 5 Gbps data transfer speed and 3 x USB-A 2.0 ports supporting 480 Mbps data transfer speeds

The Hub is bus-powered so no external power adapter is required. The lightweight aluminium Hub has a fixed connected cable, making it the perfect portable addition to your notebook. The 4 port USB Hub is fully Plug & Play, which means that no additional driver software is required so you can be up and running in no time.
Retail package dimensions Box
| Width | Height | Length |
| --- | --- | --- |
| 80 mm | 230 mm | 20 mm |
Logistic dimensions
| Packed per | Width | Height | Length | Weight |
| --- | --- | --- | --- | --- |
| 1 | 20 mm | 235 mm | 80 mm | 61 g |
| 10 | 180 mm | 120 mm | 240 mm | 710 g |
| 60 | 265 mm | 385 mm | 380 mm | 4920 g |
Product specifications
Width
223 mm

Height
12 mm

Depth
29 mm

Weight
38 g

Material
Metal

Colour
Grey

Number of outputs
1

Power source type
USB Powered

Input voltage
5 V DC

Input current
1.5 A

Output power
7.5 W

Supported technology
USB 2.0
USB 3.2 Gen 1

Power cable length
0.10 m

Number of Products in Package
1 pcs

Number of inputs
4

Connection output
4x USB A Female

Connection input
USB-A Male

Output current
1.5 A

Ports
4 port(s)

Output voltage
5 V DC

SmartLife
No

Support
Declaration of Conformity
English
Other languages