Connectivity/Computer & Networking/Cables
DisplayPort Adapter
DisplayPort Male | HDMI™ Connector | 8K@30Hz | Nickel Plated | Straight | 1.80 m | Round | TPE | Black | Envelope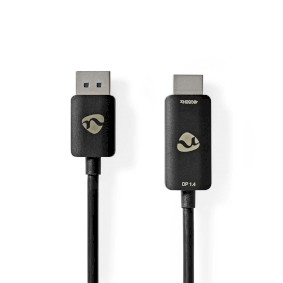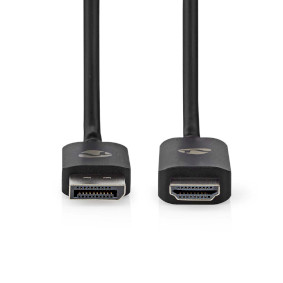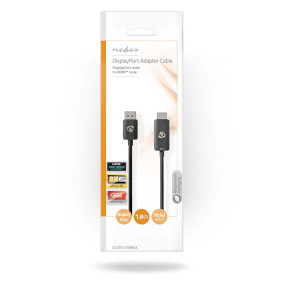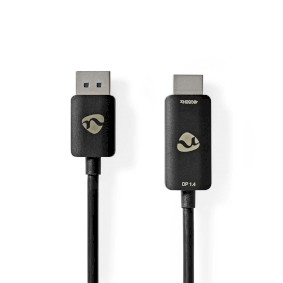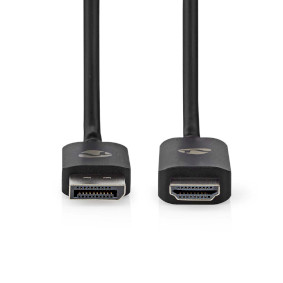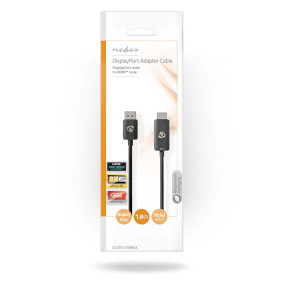 Features
Vendor Part Number: CCGP37108BK18
EAN number: 5412810400829
• DisplayPort 1.4 and HDMI™ 8K@30Hz support
• Dynamic HDR 10+
• HDCP 1.4 & HDCP 2.3 specification
• HPD
• DSC 1.1/1.2a decoder
• 8/10/12 bit color depth output
• 1 to 32 channels LPCM 192 kHz audio output
• HBR audio up to 1536 kHz





The Nedis DisplayPort to HDMI™ adapter cable is the perfect solution to connect to any HDMI™ 4K120Hz display with a laptop, desktop or video card with DisplayPort™ 1.4 or any other device that lacks the new HDMI™ 4K120Hz specification.

With DisplayPort 1.4 video compression technology, this adapter cable is able to convert DP1.4 video signals into HDMI™ signals.
It supports video display resolutions up to 8K (7680 x 4320)@30Hz with HDR.
Retail package dimensions Envelope
| Width | Height | Length |
| --- | --- | --- |
| 30 mm | 230 mm | 80 mm |
Logistic dimensions
| Packed per | Width | Height | Length | Weight |
| --- | --- | --- | --- | --- |
| 1 | 30 mm | 230 mm | 80 mm | 81 g |
| 50 | 320 mm | 245 mm | 410 mm | 4440 g |
| 100 | 445 mm | 340 mm | 505 mm | 9920 g |
Product specifications
Connector design - side B
Straight

Connector design - side A
Straight

Cable design
Round

Material
PVC

Connector material
PVC

Connector B
HDMI™ Connector

Colour
Black

AWG value
32

Connector plating
Nickel Plated

Adapter design
Straight

Adapter type
Adapter Cable

Aspect ratio
16:9

Conductor material
Tinned Copper

Supported resolutions
4K@60Hz
4K@30Hz
4K@120Hz
1080p
8K@30Hz

Connector A
DisplayPort Male

Cable type
DisplayPort
HDMI™

Conductor diameter
7 x 0.08 mm

Cable length
1.80 m

Maximum bandwith
32.4 Gbps

Resolution standard
8K UHD

Cable mantle size
4.9 mm

Packaging
Envelope

Cable mantle material
TPE

Maximum resolution
8K@30Hz