Ultra High Speed HDMI™ Cable
Connectivity/Video/Cables
Ultra High Speed HDMI™ Cable
HDMI™ Connector | HDMI™ Connector | 8K@60Hz | 48 Gbps | 5.00 m | Round | 6.7 mm | Gun Metal Grey | Cover Box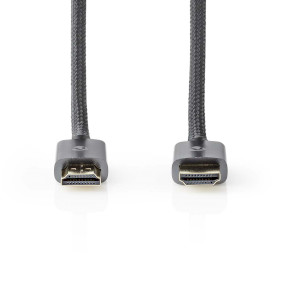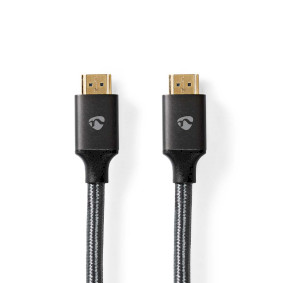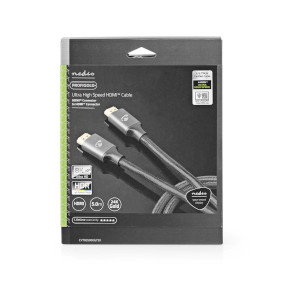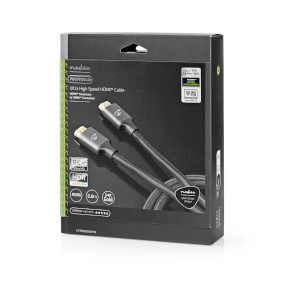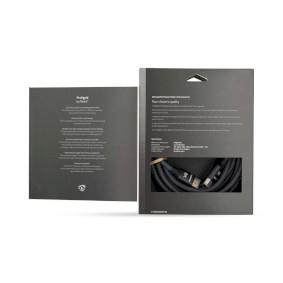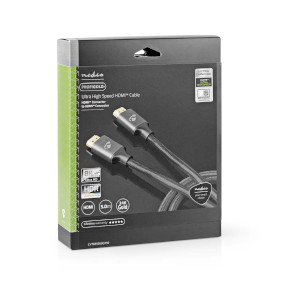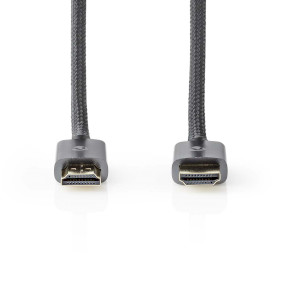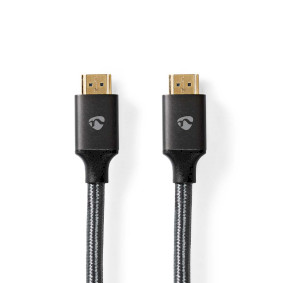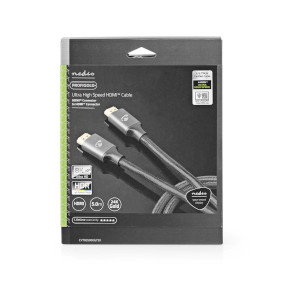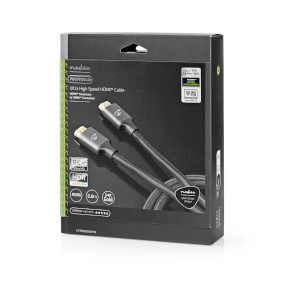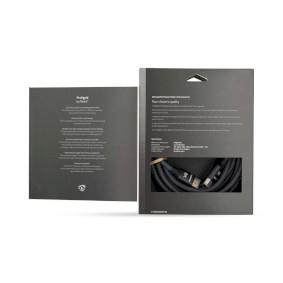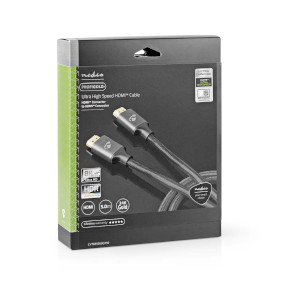 Features
Vendor Part Number: CVTB35000GY50
EAN number: 5412810401598
• This high end Ultra High Speed HDMI™ cable gives you the best possible quality in sound and vision
• Supports a maximum resolution of 8K@60Hz and bandwidth up to 48 Gbps
• Supports technologies such as eARC, Dynamic HDR, STBM and HDMI-CEC
• Premium design aluminium alloy connector housing with 24k gold-plated contacts
• Braided nylon cable protection for guaranteed long time reliability
• Multiple cable shielding, for maximum protector against radio frequency interference
• Enhanced gaming features ensure an added level of smooth and seamless motion and transitions for gaming, movies and video






This Profigold Ultra High Speed HDMI™ with ethernet cable is a high quality cable to connect a set-top box, a computer, a game console or other device. The cable allows you to transfer an audio/video signal to a television, monitor or projector and has on both sides a HDMI A male plug.
The Ultra High Speed HDMI™ with ethernet cables supports a range of higher video resolutions and refresh rates including 8K@60Hz and 4K@120Hz, and resolutions up to 10K. Dynamic HDR formats are also supported, and bandwidth capability is increased up to 48 Gbps. In addition, the latest technologies such as 3D, eARC, HDR, HDCP and HDMI-CEC are also supported.
The connectors with 24k gold-plated contacts have a premium design aluminum alloy connector housing providing a durable product finish. The braided nylon cable protects from ultraviolet light effects, twisting and pulling stress, resulting in a lifetime performance and maximum durability .
All Profigold Ultra High Speed HDMI™ with Ethernet cables are HDMI™ premium certified and backward compatible with previous versions. Premium HDMI™ cables are a special certification for High Speed HDMI™ cables that have been designed and certified for ultra-reliable performance for 8K/UltraHD.

Enhanced Audio Return Channel (eARC) is an advancement over the previous Audio Return Channel (ARC). eARC simplifies connectivity and provides greater ease of use for multiple components discovery and audio optimization. It supports the latest high-bitrate audio formats up to192kHz, 24-bit, and uncompressed 5.1 and 7.1, and 32-channel uncompressed audio. It also supports DTS-HD Master Audio™, DTS:X®, Dolby® TrueHD, Dolby Atmos®. Now it's easier than ever to experience movie theater quality sound in a living room for an immersive multi-dimensional experience and enhanced audio detail and depth.
Dynamic HDR supports multiple static and dynamic HDR solutions. HDR enhances video images with an extended dark to bright contrast range for deeper blacks and brighter whites, greater detail in both the dark and bright parts in the same image, and greater detail within an extended color space. Dynamic HDR enables a noticeable progression in overall video image quality from SDR to static HDR, and now static HDR to dynamic HDR. Dynamic HDR support ensures every moment of a video is displayed at its ideal values for depth, detail, brightness, contrast, and wider color gamuts—on a scene-by-scene or even a frame-by-frame basis. HDR-enhanced content is available for movies, videos, TV shows, video and PC games and VR.

Quick Media Switching (QMS) for movies and video eliminates the delay that often occurs when a device changes from one HDMI frame rate to another. For example, when watching trailers from a streaming service or Blu-ray, some may be in 24Hz, 50Hz, or 60Hz. Before the new standard with QMS, every time a trailer with a different frame rate is selected, either the frames must be repeated using a specific cadence to compensate for the frame rate difference, introducing motion judder; or the entire system must change its clocking and re-sync when the frame rate changes, causing an A/V blackout.
QMS eliminates A/V blackouts by using VRR technology to change frame rates, allowing instant changes from 24Hz to 60Hz frame rate, and anywhere in-between. The viewer never sees blank screens and gets a seamless experience.

Source-Based Tone Mapping (SBTM) is a new HDR feature that allows a portion of the HDR mapping to be performed by the Source device instead of the Display device. SBTM is especially useful in cases where HDR and SDR video or graphics are combined together into a single picture, such as picture-in-picture or a program guide with an integrated video window. SBTM also enables PCs and gaming devices to automatically produce an optimized HDR signal in order to maximize the utilization of the display's HDR capabilities without manual user configuration of the Source device.
120Hz-gaming
Increasing the frame rate to 120 fps provides the most fluid action possible. In racing and shooting games, this is an absolute must to get a more responsive gameplay experience on a big screen. The latest game consoles. like Sony PlayStation 5 (PS5), Microsoft XBOX Series S and XBOX Series X, support 120Hz gaming. Of course, your TV or monitor must also support 120Hz.
Retail package dimensions Cover box
| Width | Height | Length |
| --- | --- | --- |
| 182 mm | 231 mm | 51 mm |
Logistic dimensions
| Packed per | Width | Height | Length | Weight |
| --- | --- | --- | --- | --- |
| 1 | 180 mm | 235 mm | 55 mm | 547 g |
| 6 | 190 mm | 250 mm | 340 mm | 3460 g |
| 24 | 355 mm | 530 mm | 395 mm | 14740 g |
Product specifications
| | |
| --- | --- |
| Width | 9 mm |
| Height | 5012 mm |
| Depth | 9 mm |
| Weight | 430 g |
| Data transfer direction | 2-way |
| Connector design - side B | Straight |
| Connector design - side A | Straight |
| Cable design | Round |
| Connector plating | Gold Plated |
| Connector A | HDMI™ Connector |
| Connector B | HDMI™ Connector |
| AWG value | 28 |
| Cable length | 5.00 m |
| Conductor material | OFC |
| Material | Aluminium |
| Cable mantle material | Nylon |
| Maximum resolution | 8K@60Hz |
| Colour | Gun Metal Grey |
| Maximum bandwith | 48 Gbps |
| Cable type | Ultra High Speed HDMI |
| Packaging | Cover Box |
| Number of Products in Package | 1 pcs |
| Connector material | Bare Copper |
| Cable mantle size | 6.7 mm |
| SmartLife | 0 |