Wall Charger | 3.0 A | USB (QC) / USB-C | Power Delivery 30 W | Black
Energy/Computer & Smart Media/Smartphone & Tablet Chargers
Wall Charger | 3.0 A | USB (QC) / USB-C | Power Delivery 30 W | Black
Brand: Nedis
Article number: WCPD30W110BK
EAN number: 5412810293254
Wall Charger | 3.0 A | USB (QC) / USB-C | Power Delivery 30 W | Black
Vendor Part Number: WCPD30W110BK
EAN number: 5412810293254
This Nedis® 30 W USB-C 3.0 Wall Charger allows you to charge smartphones, tablets, Nintendo Switch and many other USB-C devices without requiring a PC or notebook.
It's advanced Power Delivery Technology and Quick Charge USB-A 3.0 connection allows for simultaneous high-speed charging of compatible devices faster at higher voltages.
Thanks to its small size this is the perfect travel solution for portable charging and can even power smaller USB-C notebooks.
Features
• 30 W & 18 W charge simultaneous • PD Power Delivery • QC3.0 • Dual USB
Others also bought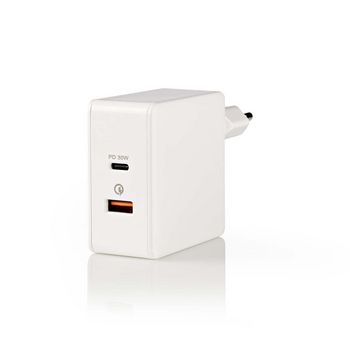 Wall Charger | 3.0 A | USB (QC) / USB-C...
Package contents
Wall charger
Quick start guide
Product specifications
Colour
Black

Number of outputs
2

Power plug
Euro / Type C (CEE 7/16)

Output power
48 W

Output voltage
12 VDC
15 VDC
20 VDC
6 VDC
9 VDC
5 VDC
3.6 VDC

Current
2.5 A
3.0 A
2.0 A
1.5 A

Width
62 mm

Charger type
Home Desktop

Cable type
USB

Height
32 mm

Output voltage selection
Automatic Voltage Selection

Socket type
2x USB

Appliance
Home Desktop

Length
80 mm

Weight
135 g

Connection
USB Type-C™
USB Type-A

Cable length
1.5 m

Output current
3.0 A

Maximum output current per port
3.0 A

Voltage
100...240 VAC/ 50...60 Hz

Output plug type
USB Type-C
USB Type-A

You may be also interested in these product(s)