Wall Charger | 3.0 A | USB-C | Power Delivery 60 W | Black
Energy/Computer & Smart Media/Smartphone & Tablet Chargers
Wall Charger | 3.0 A | USB-C | Power Delivery 60 W | Black
Brand: Nedis
Article number: WCPD60W100BK
EAN number: 5412810293278
Wall Charger | 3.0 A | USB-C | Power Delivery 60 W | Black
Vendor Part Number: WCPD60W100BK
EAN number: 5412810293278
This Nedis® 60 W USB-C 3.0 Wall Charger allows you to charge smartphones, tablets, Nintendo Switch and many other USB-C devices without requiring a PC or notebook.
It's advanced Power Delivery Technology allows you to charge compatible devices faster at higher voltages and this compact charger can also power smaller USB-C notebooks.
Thanks to its small size this is the perfect travel solution for portable charging.
Features
• 60 W • Power Delivery
Others also bought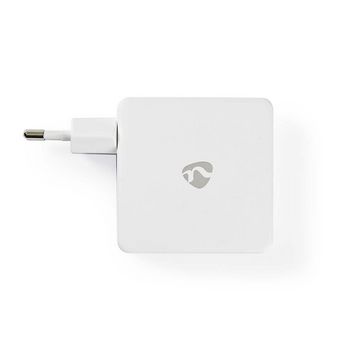 Wall Charger | 3.0 A | USB-C | Power Delivery...
Package contents
Wall charger
Quick start guide
Product specifications
Colour
Black

Power plug
Euro / Type C (CEE 7/16)

Number of outputs
1

Output voltage
12 VDC
15 VDC
20 VDC
9 VDC
5 VDC

Width
62 mm

Socket type
USB

Cable type
USB

Height
32 mm

Output power
60 W

Output voltage selection
Automatic Voltage Selection

Appliance
Home Desktop

Length
80 mm

Connection
USB Type-C™

Output current
3.0 A

Maximum output current per port
3.0 A

Voltage
100...240 VAC/ 50...60 Hz

Output plug type
USB Type-C

Weight
142 g

You may be also interested in these product(s)