Energy/Computer & Smart Media/Smartphone & Tablet Chargers
Wall Charger
Quick charge feature | PD3.0 18W / PD3.0 20W / PD3.0 27W / PD3.0 36W / PD3.0 45W / PD3.0 60W / QC3.0 | 3.0 / 3.25 A | Number of outputs: 3 | USB-A / 2x USB-C™ | 65 W | Automatic Voltage Selection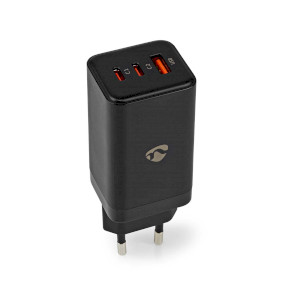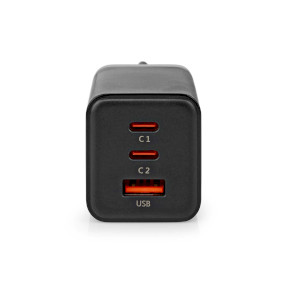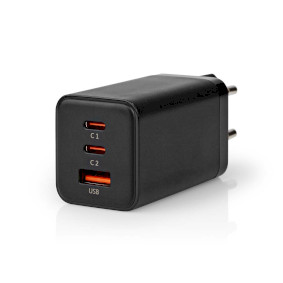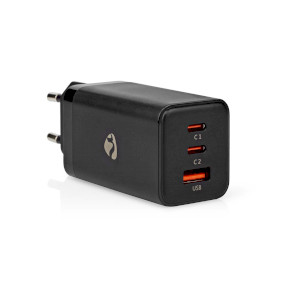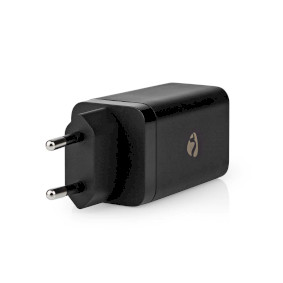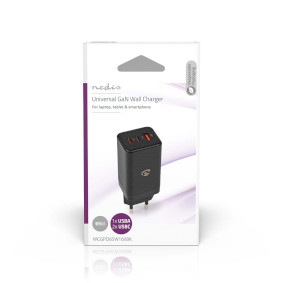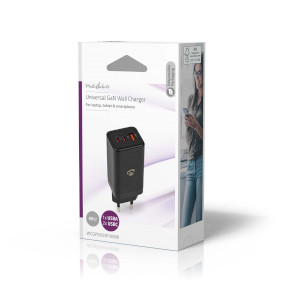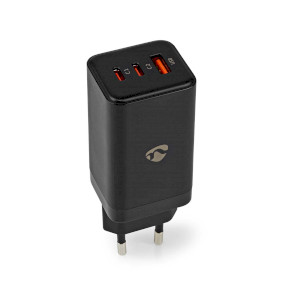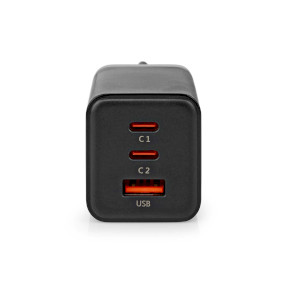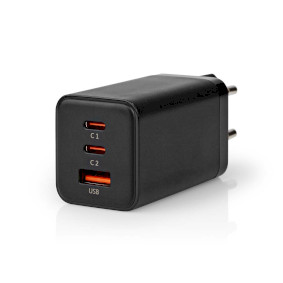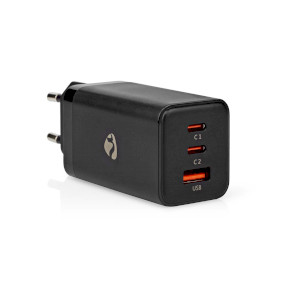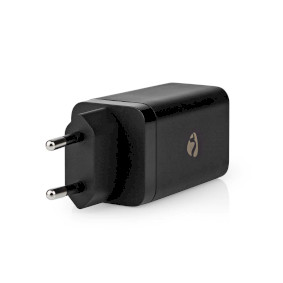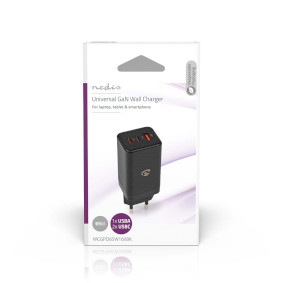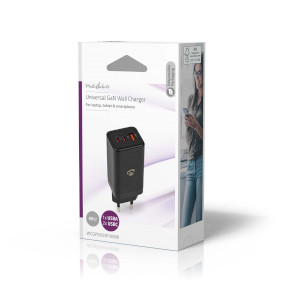 Features
Vendor Part Number: WCGPD65W100BK
EAN number: 5412810408443
• 65 W
• PD (Power Delivery)
• 2x 3.25 A output via USB-C
• 1x 3.0 A out put via USB-A
• GaN technology for more stable, faster charging and better heat dissipation
• Can charge your USB-C powered laptop, tablet or smartphone
• Smart IC technology - automatically detects the required current

This Nedis USB-C GaN wall charger allows you to charge a notebook but also an other device like a smartphones, a tablet or a USB device like Nintendo Switch at the same time. This 65 Watt charger works with USB Power Delivery technology for charging your device faster and more efficiently. It has three ports, two with USB-C and a charging current of up to 3.25 A and one with USB-A and a charging current of up to 3.0 A for fast charging . The smart IC technology automatically detects the required current.
The charger is not only ideal for usage at home or at work, but due to its small size also a perfect travel solution.

GaN technology
Gallium Nitride (GaN) is a high-quality new technique. GaN transistors produce less heat, requiring less space between components and allowing chargers to become smaller while providing all the power of a large charger. This power supply turbo charger with up to 65 watts of power can charge for instance an Apple iPhone 12 up to 61 percent battery life in only 30 minutes.
Packaging
Package contents
GaN Wall charger
Quick Start Guide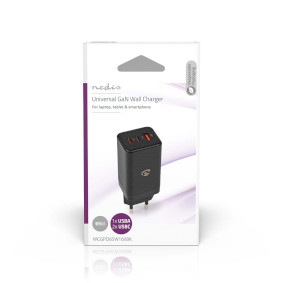 Retail package dimensions Giftbox with eurolock
| Width | Height | Length |
| --- | --- | --- |
| 40 mm | 140 mm | 80 mm |
Logistic dimensions
| Packed per | Width | Height | Length | Weight |
| --- | --- | --- | --- | --- |
| 1 | 40 mm | 145 mm | 80 mm | 165 g |
| 10 | 185 mm | 160 mm | 230 mm | 1748 g |
| 40 | 260 mm | 345 mm | 390 mm | 7450 g |
Product specifications
Colour
Black

Including cable
No

LED-indicator in use
Yes

Quick charge feature
Yes

Suitable for brands
Universal

Input voltage
100 - 240 V AC 50/60 Hz

Power source type
Mains Powered

Compatible with device
Smartphone
Tablet
Notebook

Number of outputs
3

Material
Polycarbonate

Supported technology
PD3.0 18W
QC3.0
PD3.0 45W
PD3.0 60W
PD3.0 27W
PD3.0 36W
PD3.0 20W

Input current
1.5 A

USB connection
Yes

Power plug
Euro / Type-C (CEE 7/16)

Connection
USB Type-A
USB Type-C™

Suitable for device
Universal

Maximum power consumption
65 W

Port type
2x USB-C™
USB-A

Maximum output current per port
3.25 A

Output current
3.0 A
3.25 A

Output voltage selection
Automatic Voltage Selection

Output voltage
12 V DC
9 V DC
5 V DC
15 V DC
20 V DC