Gaming Mouse Bungee | 3 USB Ports | Flexible Clamp | Backlit lights
Gaming/Gear/Mice accessories
Gaming Mouse Bungee | 3 USB Ports | Flexible Clamp | Backlit lights
Brand: Nedis
Article number: GMBEU3100BK
EAN number: 5412810292868
Gaming Mouse Bungee | 3 USB Ports | Flexible Clamp | Backlit lights
Vendor Part Number: GMBEU3100BK
EAN number: 5412810292868
Enjoy full freedom of movement while gaming and make sure your cable does not get tangled with this Nedis® Gaming Mouse Bungee.
This attractive diamond-shaped gaming mouse bungee features stylish illumination from backlit blue lights.
This bungee not only offers ultimate stability from its anti-slip and weighted base, it also adds four extra high-speed ports to your PC, with transfer speeds of up to 5 Gbps.
It is plug and play so you can simply connect your USB drives and peripherals - and the flexible clamp is removable allowing you to use it purely as a USB hub.
Features
• Flexible clamp, anti-slip backer and weighted base - for ultimate stability • Intelligent fast charge from USB 3.0 ports - for data transmission speeds of 5 Gbps • Diamond shape and blue backlights - for stylish looks
Others also bought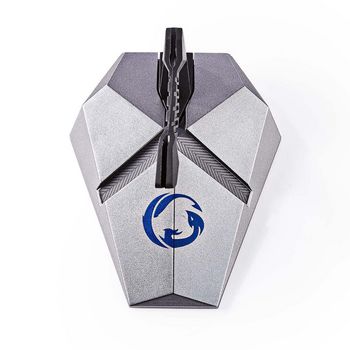 Gaming Mouse Bungee | Flexible Clamp
Package contents
Mouse bungee
USB cable
Product specifications
Colour
Black

Material
Plastic

Ergonomics
Both Handed

Cable type
USB

Connection output
3x USB A Female
1x Micro USB

Cable length
1.2 m

Connection
USB 3.0

Type
Cable Manager

Feature
Illuminated

Connection input
1x USB 3.0

You may be also interested in these product(s)