Gaming Mouse & Mouse Pad Set | Wired Mouse | 1600 DPI | 6 buttons
Gaming/Gear/Mice
Gaming Mouse & Mouse Pad Set | Wired Mouse | 1600 DPI | 6 buttons
Brand: Nedis
Article number: GMMP100BK
EAN number: 5412810270705
Gaming Mouse & Mouse Pad Set | Wired Mouse | 1600 DPI | 6 buttons
Vendor Part Number: GMMP100BK
EAN number: 5412810270705
The perfect starter kit for gamers from Nedis® offers a precision gaming mouse and super-smooth, non-slip mouse pad.
A precision six-button gaming mouse offers all the control you need, with an optical resolution of up to 1600 dpi. The beautiful ergonomic design has not sacrificed comfort for durability: there's more than 3 million strokes in this mouse.
Perfectly partnered with this super-smooth mouse pad that allows the mouse to glide over its surface but will always stay in place thanks to its anti-skid other side.
Use this kit to give your gaming life the edge.
Features
• Illuminated mouse with smooth surface mouse pad • Six-button mouse with an optical resolution of up to 1600 dpi • Smooth-surfaced mouse pad with anti-skid bottom
Others also bought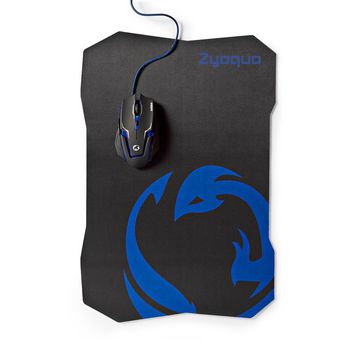 Gaming Mouse & Mouse Pad Set | Wired Mouse |...
Package contents
Gaming mouse
Mouse pad

Product specifications
Colour
Black

Material
Plastic / Metal

Operating system
Windows 10
Windows 8
Windows 7

Power rating
5 V 0.5 A

DPI
800 dpi
1200 dpi
1600 dpi

Ergonomics
Right-Handed

Number of buttons
6

Cable length
1.5 m

Connection
USB 2.0

Width
244 mm

Need help with this product?
Datasheet
Please contact our support team for an answer to your question.
Get in touch
You may be also interested in these product(s)