SmartLife Infrared Heating Panel
Household and Living/Climate/Heating
SmartLife Infrared Heating Panel
350 W | 1 Heat Setting | Adjustable thermostat | Remote control | IP44 | White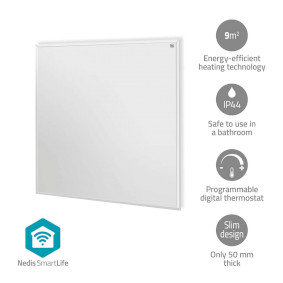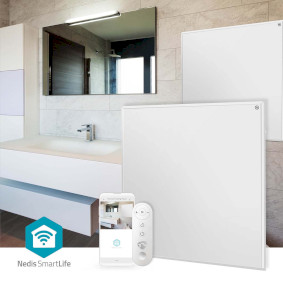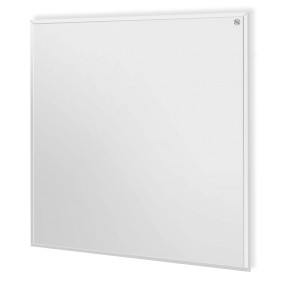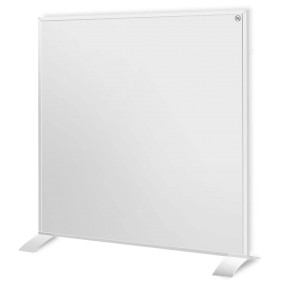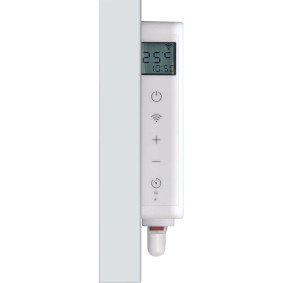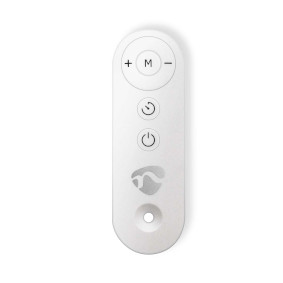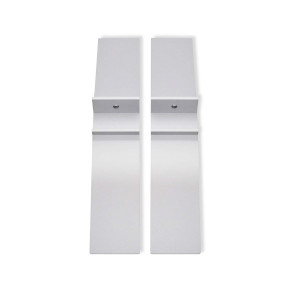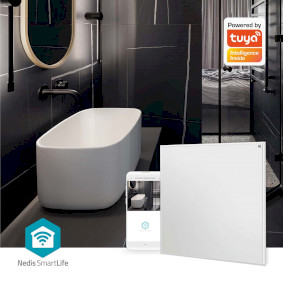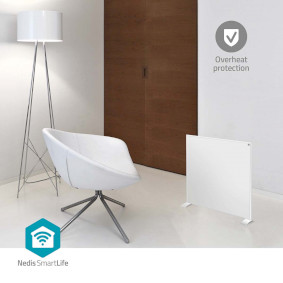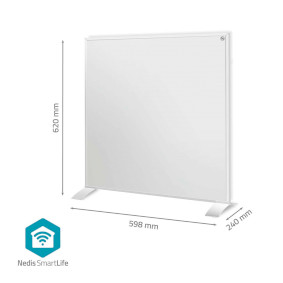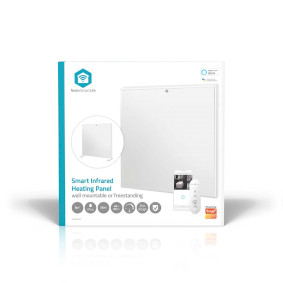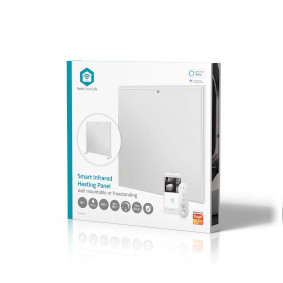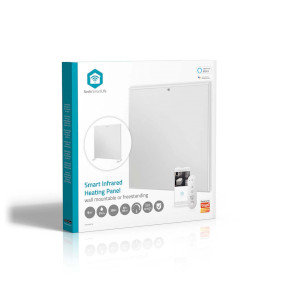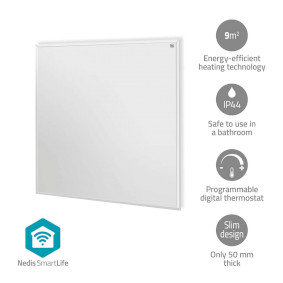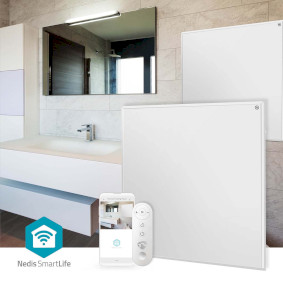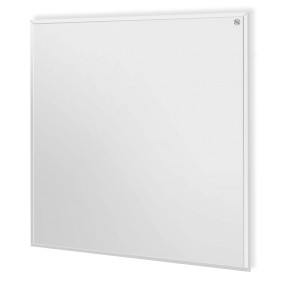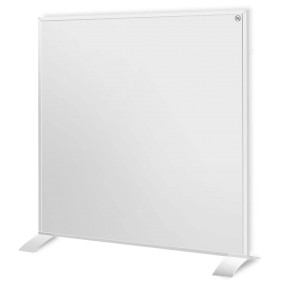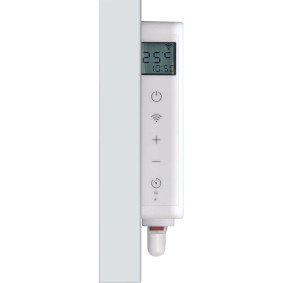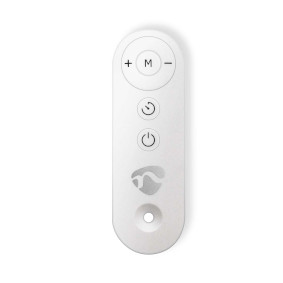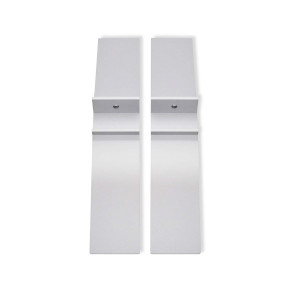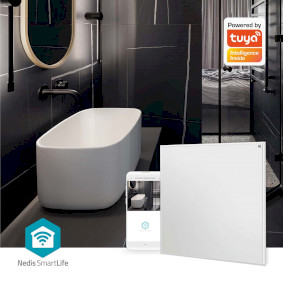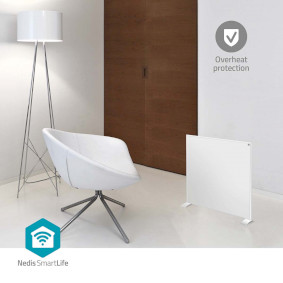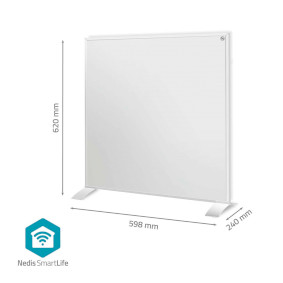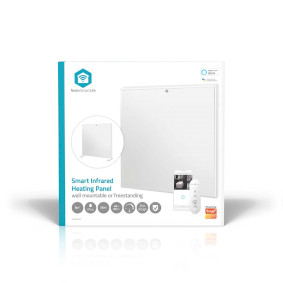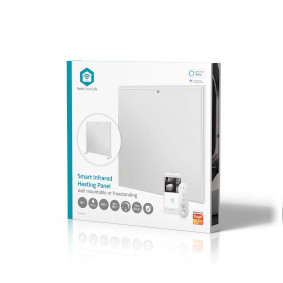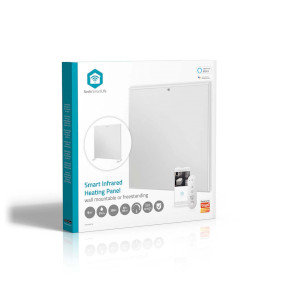 Features
Vendor Part Number: HTIP350WTW
EAN number: 5412810444304
• Smart Wi-Fi infrared panel heater
• Ideal to heat a room of up to 9 m²
• Carbon Crystal heating technology, energy-efficient, noiseless and odorless
• Programmable digital thermostat, to keep the room temperature at a stable level
• Programmable weekly timer via the app
• Control panel with LCD display hidden out of sight at the rear of the heater
• Remote control for extra convenience
• IP44 protection rating, which makes this heater safe to use in a bathroom
• Safe to use thanks to the overheat protection
• Can be wall mounted horizontally as well as vertically
• Use it freestanding with the supplied feet
• Supports voice control i.c.w. Google Assistant and Amazon Alexa
• App controlled: operate, program and monitor the heater via the free Nedis® SmartLife app
• This product is only suitable for well insulated spaces or occasional use

Note: The performance of the Wi-Fi smart infrared panel heater is subjected to many factors like floor space, ceiling height, level of isolation, number of windows and room type. The data mentioned is based on a well insulated space.




This Nedis Smart Wi-Fi Infrared Panel Heater is the perfect solution for heating rooms up to 9 m² efficiently and effectively. With its advanced features and benefits, this heater offers superior performance and convenience, ensuring a comfortable environment for your living space.

The Nedis Smart Wi-Fi Infrared Panel Heater utilizes cutting-edge Carbon Crystal heating technology, guaranteeing energy-efficient operation while keeping your energy bills in check. Enjoy a cosy atmosphere without any disturbing noises or unpleasant odours commonly associated with traditional heating methods. This versatile flat heating panel requires nothing more than a power outlet.

The panel heater generates direct heat by means of infrared radiation. This does not heat the ambient air, but rather all the items in the room (People, walls, ceiling, floor and furniture) which then gradually emit the stored heat into the room.

Maintaining the desired room temperature is effortless with the programmable digital thermostat. Set your preferred temperature, and the heater will intelligently maintain it, providing a stable and comfortable environment. Take advantage of the programmable weekly timer via the user-friendly app, allowing you to effortlessly schedule the heater according to your daily routine.

For added convenience, the control panel features an LCD display, discreetly located at the rear of the heater or you can control the settings effortlessly from a distance using the remote control, ensuring maximum comfort without having to leave your cosy spot.

With an IP44 protection rating, this heater is designed to be safe for use in bathrooms, providing warmth during those chilly mornings. the overheat protection guarantees safe usage at all times.

The Nedis Smart Wi-Fi Infrared Panel Heater offers versatile installation options. Choose to mount it horizontally or vertically on the wall, saving valuable floor space. Alternatively, use the equipped feet for freestanding use, allowing you to place it wherever you desire. Experience ultimate convenience with voice control functionality. Simply integrate the heater with Google Assistant or Amazon Alexa for hands-free operation, adding a touch of modernity to your living space.

Taking control of your heating has never been easier. With the Nedis SmartLife app, you can effortlessly operate, program, and monitor the heater remotely. Adjust settings, create personalized schedules, and monitor energy consumption, all from the palm of your hand.

Please note that this product is specifically designed for well-insulated spaces or occasional use. Ensure your living area meets the recommended insulation requirements for optimal heating efficiency
Packaging
Package contents
Smart Infrared Heating Panel
2 x stand
Wall mounting accessories
Remote control incl. CR2025 battery
Quick start guide
Wall mounting template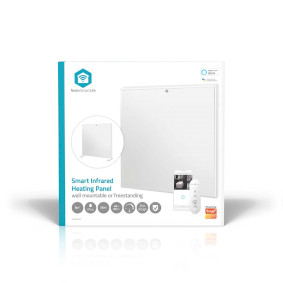 Retail package dimensions Giftbox
| Width | Height | Length |
| --- | --- | --- |
| 645 mm | 640 mm | 85 mm |
Logistic dimensions
| Packed per | Width | Height | Length | Weight |
| --- | --- | --- | --- | --- |
| 1 | 100 mm | 65 mm | 655 mm | 1 g |
Product specifications
Width
598 mm

Height
620 mm

Depth
240 mm

Weight
3900 g

Colour
White

Material
Metal
Plastic

Power source type
Mains Powered

Input voltage
220 - 240 V AC 50/60 Hz

Maximum transmit antenna gain
2.5 dBi

Movable
Yes

Adjustable thermostat
Yes

Remote control
Yes

On/Off switch
Yes

Indicator light
No

Integrated handle(s)
No

Adjustable height
No

Power cable length
1.80 m

Batteries included
Yes

Required batteries (included)
1x CR2025

App available for
Android™
IOS

IP rating
IP44

Maximum transmit power
17.5 dBm

Transmit frequency range
2400 - 2483.5 MHz

Power plug
Type F (CEE 7/7)

With wheels
No

Frost free mode
No

Fall over protection
No

Timer
Yes

Display
Yes

Wall mountable
Yes

Suitable for bathroom
Yes

Number of heat settings
1 Heat Setting

Supported wireless technology
Wi-Fi

Programmable
Yes

Number of Products in Package
1 pcs

Control Through Mobile App
Yes

Maximum power consumption
350 W

Power
350 W

Number of heating modes
1 Heat Mode

SmartLife
Yes

Suitable for space up to
9 m²

Type of heater
Infrared Heating Panel

With feet
Yes

Operating temperature range
0 - 37 °C

Heating element
Carbon Crystal

Support
Declaration of Conformity
English
Other languages