SmartLife Blood Pressure Monitor
Household and Living/Health/Blood pressure meters
SmartLife Blood Pressure Monitor
Arm | Bluetooth | LCD Display | 22 - 42 cm | Detection for cuff wearing / Irregular heartbeat detection / Keep still indication | White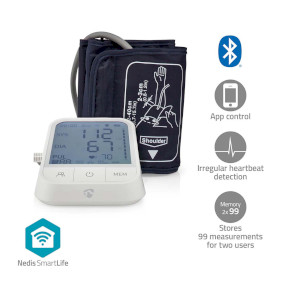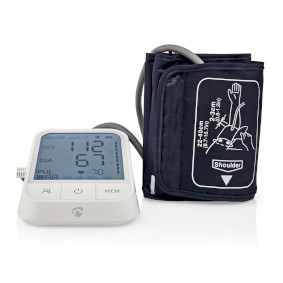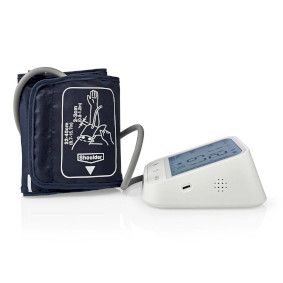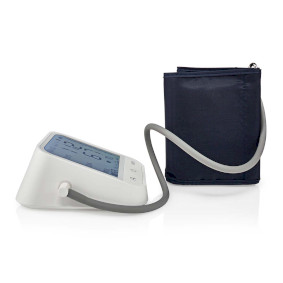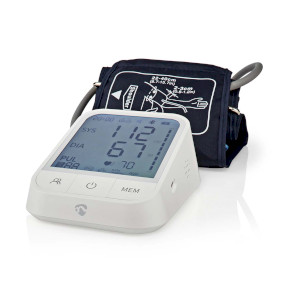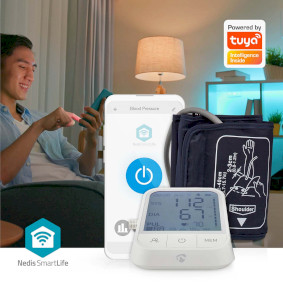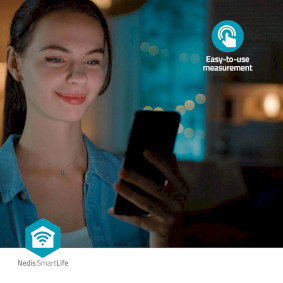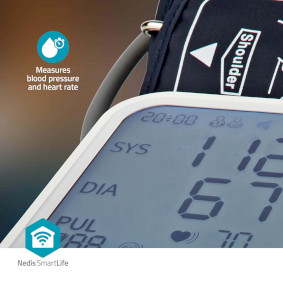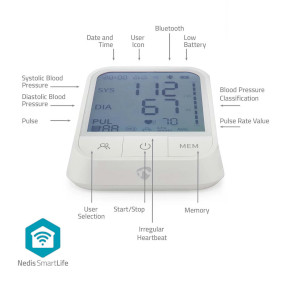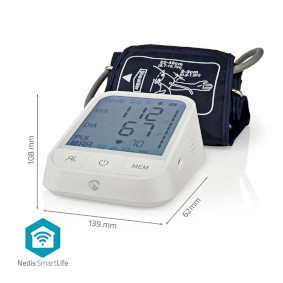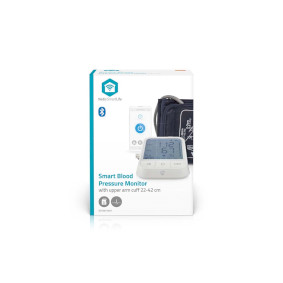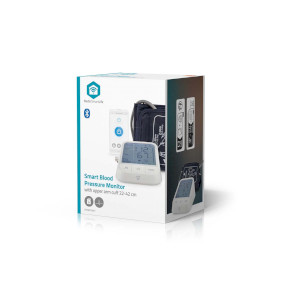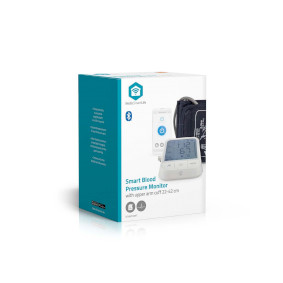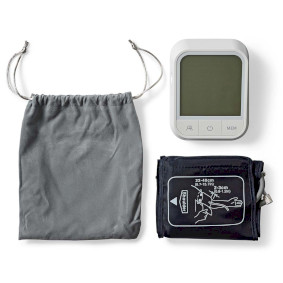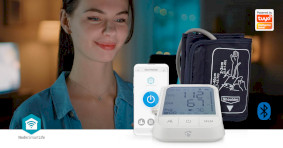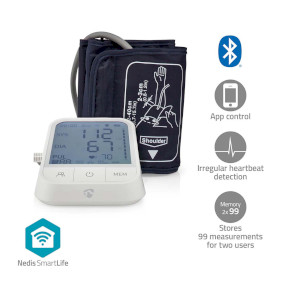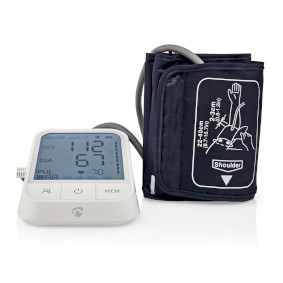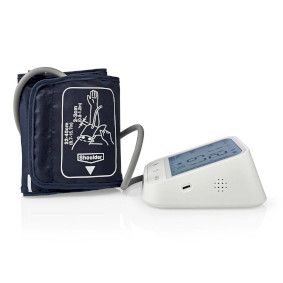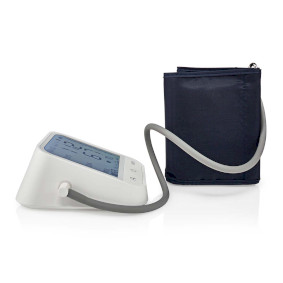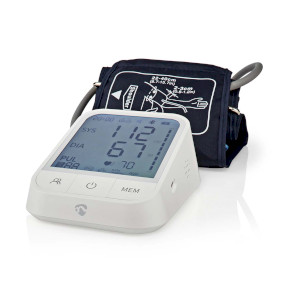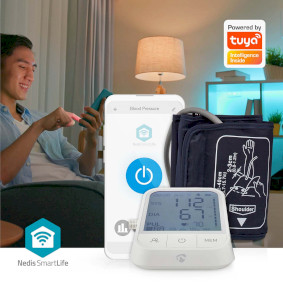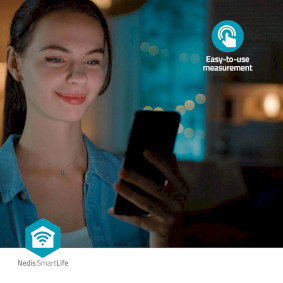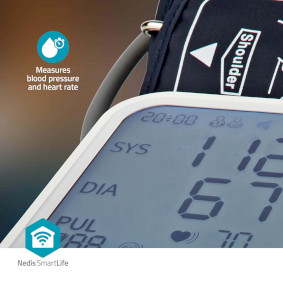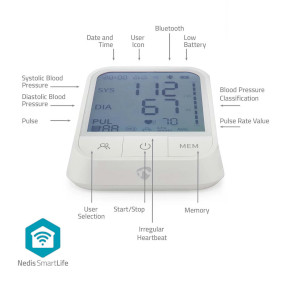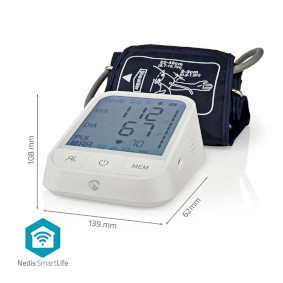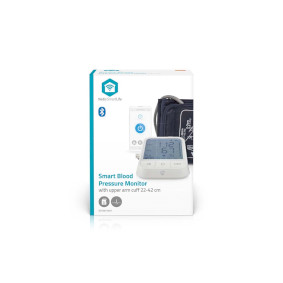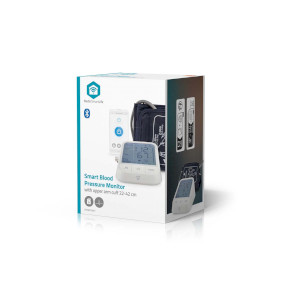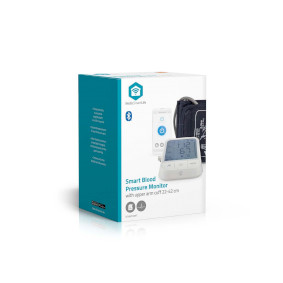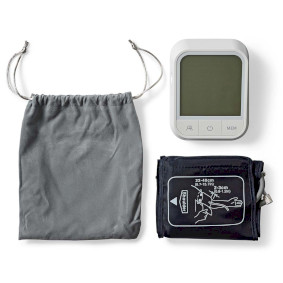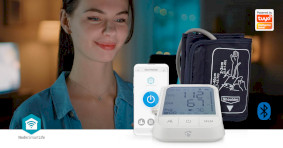 Features
Vendor Part Number: BTHBP10WT
EAN number: 5412810418428
• Smart Upper Arm Bluetooth® Blood Pressure Monitor
• Measures blood pressure and heart rate
• Easy-to-use measurement with one touch of a button
• WHO color indication detection with a 4-colour indicator
• Irregular heartbeat detection
• Correct cuff wearing and keep still indications
• Upper arm cuff for 22 – 42 cm arm circumference
• Large 4.3 inch HD LCD screen clearly displays measurements
• Store up to 99 readings for each of the two users
• Energy-efficient: auto powers off in 60 seconds
• Dual power: 4x AAA batteries or USB type C charging port
• Connects to the Nedis SmartLife app to store measurements
• SmartLife app saves data automatically to the right account and monitors readings
• SmartLife app displays graphs of different measurements overtime




This Nedis smart upper arm blood pressure monitor is clinically validated and offers faster measurement results thanks to its intelligent inflating technology. It is very easy to use, as it immediately informs the user if there is an application error. This is complemented by the integrated motion detector to ensure accurate measurement results. Via Bluetooth® data transfer, the measurement results can be sent directly to the Nedis SmartLife app.

The blood pressure monitor comes with an intelligent arm-cuff, with an adjustable size from 22 to 42 cm, which indicates correct cuff wearing and keep still indications. The monitor also has an irregular heartbeat detection. On the 4.3 inch HD screen displays all readings clearly including the World Health Organization (WHO) 3 colour blood pressure standard.

You can store up to 99 readings for each of the two users in the blood pressure monitor, connecting via Bluetooth® and the Nedis Smartlife app, saves and monitor your measurements. This makes blood pressure even more transparent, because the graphs clearly shows the influence of your lifestyle on your blood pressure over a long period of time.
The monitor is energy-efficient, because of the auto-power off function (60 seconds). It can be powered by either 4x AAA batteries or via the USB Type-C charging port.
Packaging
Package contents
• Blood Pressure Monitor with pouch
• Arm cuff
• Quick start guide
• Manual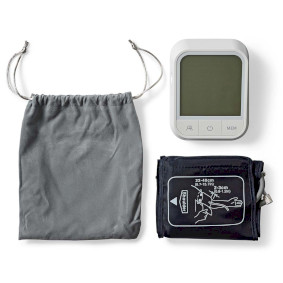 Retail package dimensions Giftbox
| Width | Height | Length |
| --- | --- | --- |
| 115 mm | 155 mm | 95 mm |
Logistic dimensions
| Packed per | Width | Height | Length | Weight |
| --- | --- | --- | --- | --- |
| 1 | 100 mm | 160 mm | 115 mm | 528 g |
| 24 | 365 mm | 335 mm | 410 mm | 13160 g |
Product specifications
Width
105 mm

Height
62 mm

Depth
139 mm

Weight
428 g

Colour
White

Material
ABS

Power source type
Battery Powered
Mains Powered

Power plug
Type C (CEE 7/16)

App available for
Android™
IOS

Bluetooth
Yes

Display type
LCD Display

Auto shut-off
Yes

Number of Products in Package
1 pcs

Required batteries (not included)
4x AAA/LR03

SmartLife
Yes

Controlling method
Oscillometric

Display size
814 x 829 mm

Indoor humidity range
15 - 90 %

Operating temperature range
5 - 40 °C

Size
22 - 42 cm

Type
Arm

Smart health functions
Detection for cuff wearing
Irregular heartbeat detection
Keep still indication

Pulse rate range
40 - 199 bpm

Pulse rate accuracy
± 5 bpm

Memory slots
2x 99

Atmospheric condition
70 ~ 106 kPa

BPM measurement
Pressure accuracy: ±3 mmHg (±0.4 kPa)
Pressure range: 0 - 295 mmHg (0 - 39.33 kPa)

Support
Safety Datasheet
English
Other languages