Lighting/Indoor Lighting/Table Lights
Ring Light
10 inch | 120 LED's | 2700 - 6700 K | Desktop | Black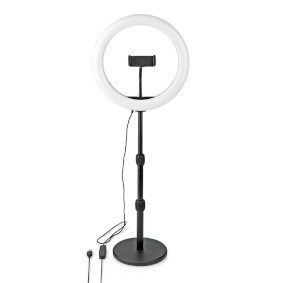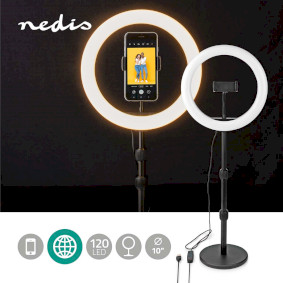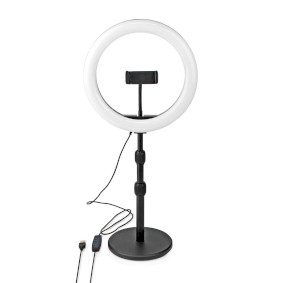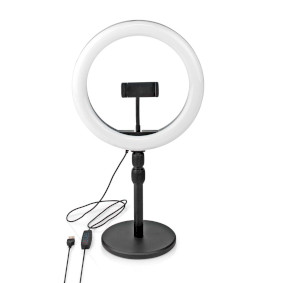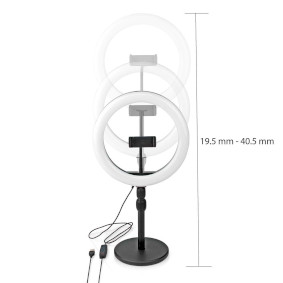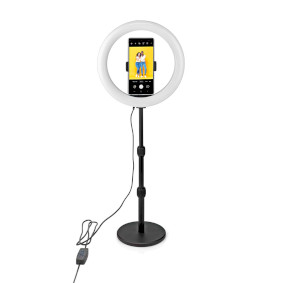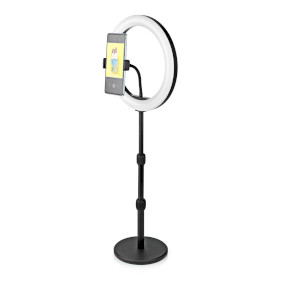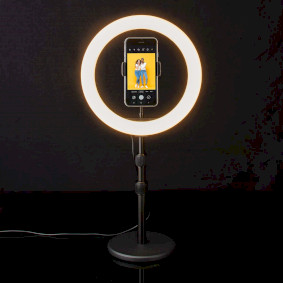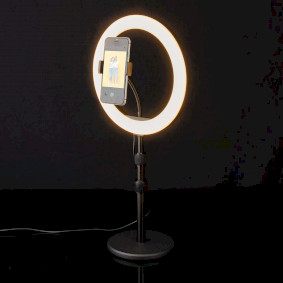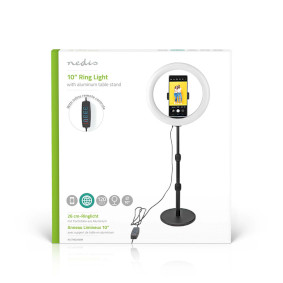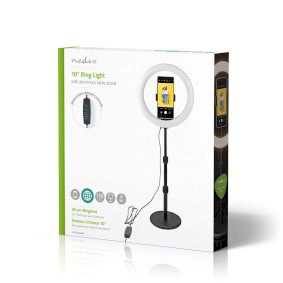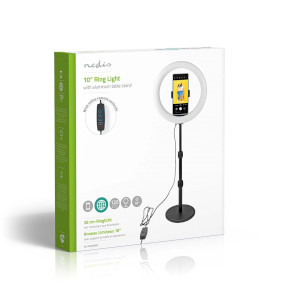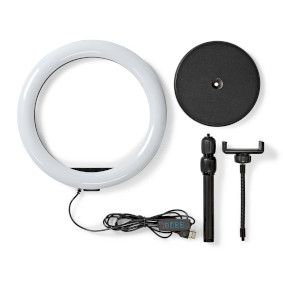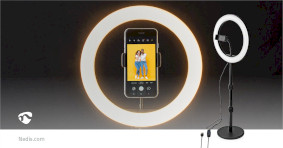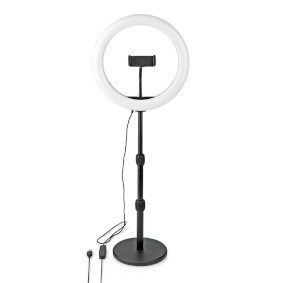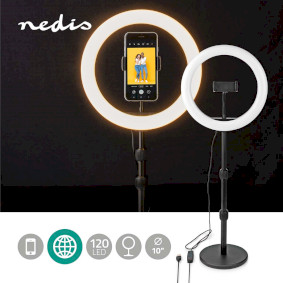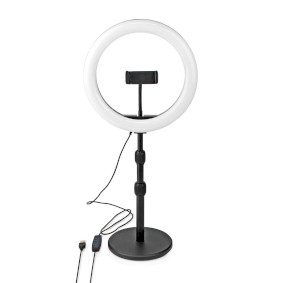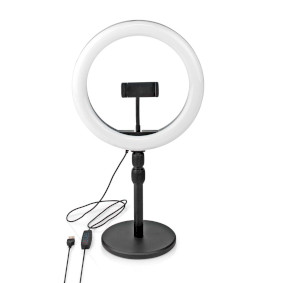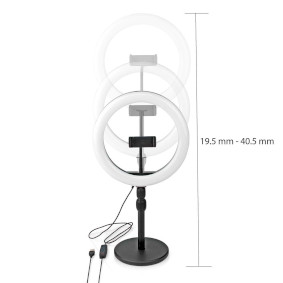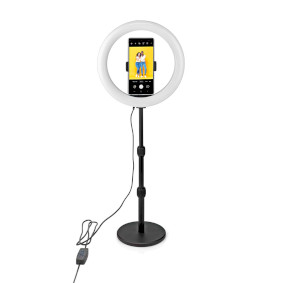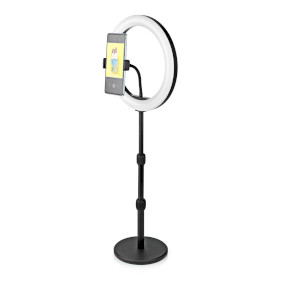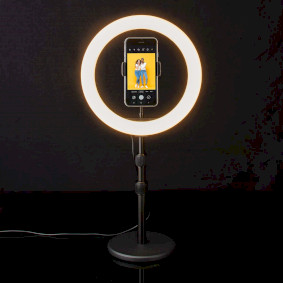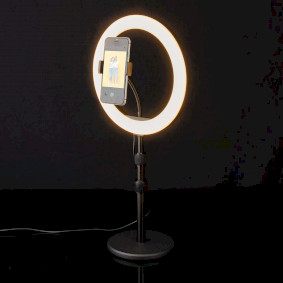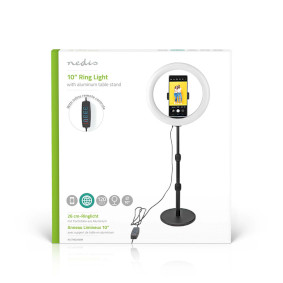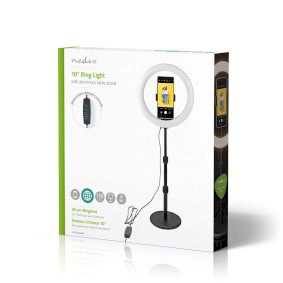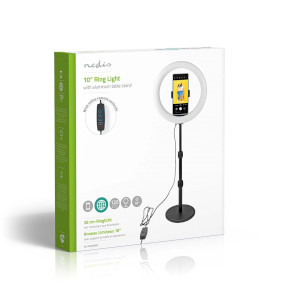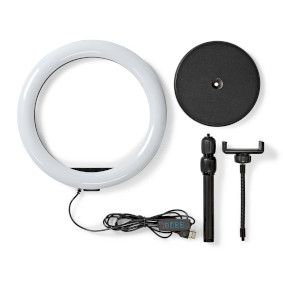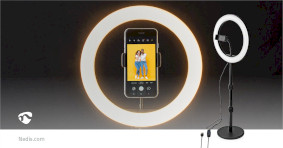 Features
Vendor Part Number: RLSTND200BK
EAN number: 5412810408832
• 10" (26 cm) ring light with 120 LED lights
• Perfectly illuminated and ideal for vloggers
• 10 different brightness adjustment settings available via the in-line remote
• Extremely flexible with clamping spring holder for smartphone
• Aluminium table stand which can be set used for your optimal height and angle.
• USB-powered

With this Nedis ring light on an aluminium table stand always have the best lighting for your selfies, vlogs, tutorials, TikTok, Instagram or You Tube videos. The 10" ring lamp with 120 LEDs ensures the best evenly distributed light effect ensures so you always look at your best. Just put the right light on the table, attach your smartphone and you can start filming.

The ring light is easy in use. You clamp your phone on the flexible neck in the middle of the ring light. Bend the flexible goose neck however you want so that you always have the best shot and the best angle. Turn it towards you or away from you or position it at an angle. You choose the ideal lighting yourself with one of the 10 different light modes available via the in-line remote. Like this you always get the desired effect for your videos. It comes with a stable aluminium table stand which can be set used for your optimal height and angle.

The ring light is USB-powered so it can be powered by a computer, powerbank or via any USB power adapter.
Packaging
Package contents
10" Ring light
Table stand
Phone holder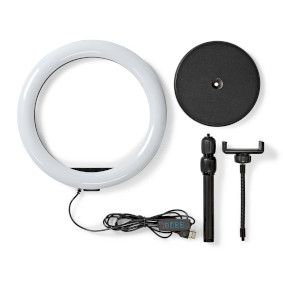 Retail package dimensions Giftbox
| Width | Height | Length |
| --- | --- | --- |
| 268 mm | 286 mm | 47 mm |
Logistic dimensions
| Packed per | Width | Height | Length | Weight |
| --- | --- | --- | --- | --- |
| 1 | 50 mm | 290 mm | 285 mm | 1080 g |
| 8 | 290 mm | 310 mm | 435 mm | 9220 g |
| 16 | 455 mm | 330 mm | 600 mm | 19440 g |
Product specifications
Colour
Black

Material
ABS
Aluminium

Power source type
USB Powered

Head type
Pan & Tilt

Number of LED's
120 LED's

Maximum load capacity
2 kg

Light type
Ring light 10 inch

Size
10 inch

Colour temperature
2700 - 6700 K

Folded lenght
19.5 cm

Maximum working height
40.50 cm

Base type
Desktop

Support
Declaration of Conformity
English
Other languages