SmartLife Full Colour LED Bulb
Lighting/Light bulbs/Colour
SmartLife Full Colour LED Bulb
Zigbee 3.0 | E14 | 470 lm | 4.9 W | RGB / Warm to Cool White | 2200 - 6500 K | Android™ / IOS | Candle | 1 pcs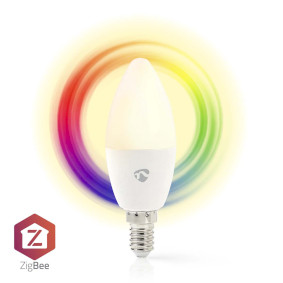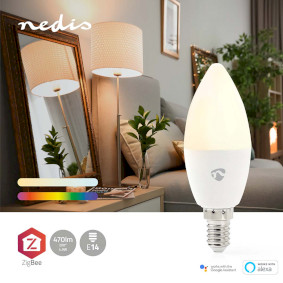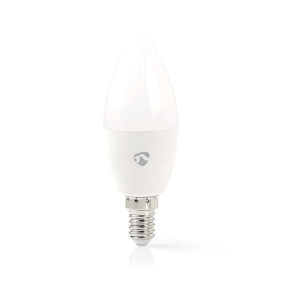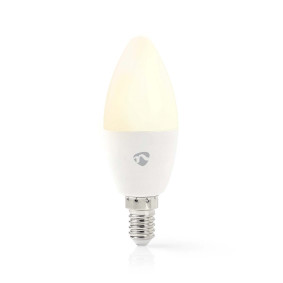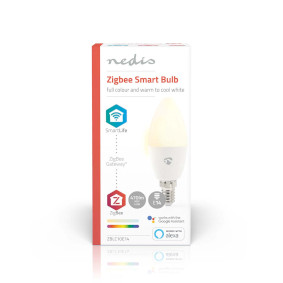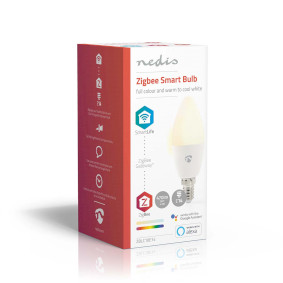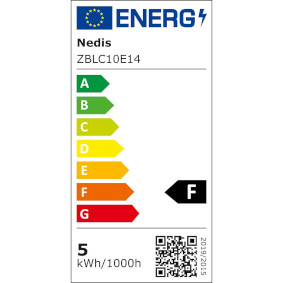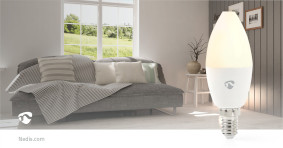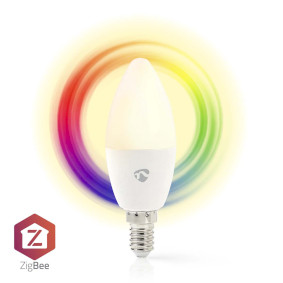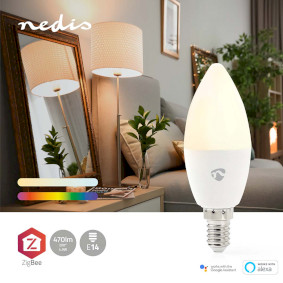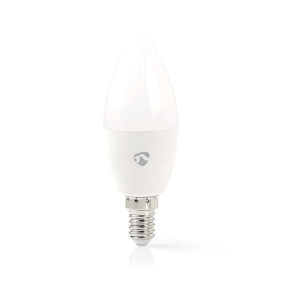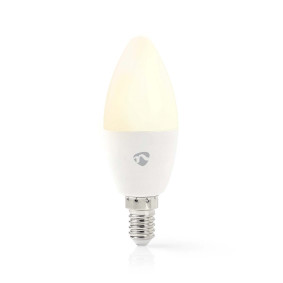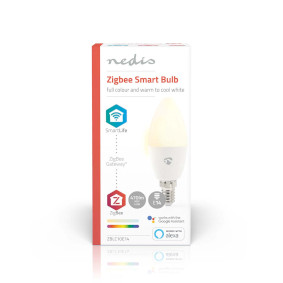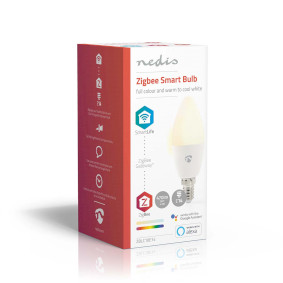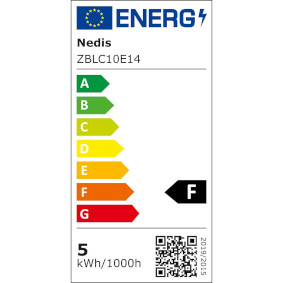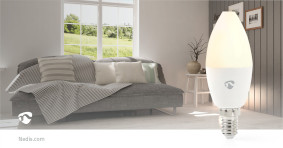 Features
Vendor Part Number: ZBLC10E14
EAN number: 5412810410644
• Plug & play: connects directly with your Wi-Fi through the Zigbee gateway
• Ideal to be used in places with a weak internet connection
• Zigbee protocol can connect multiple devices in one single network
• Zigbee bulbs are very energy-efficient
• Control the bulb's brightness and colour - RGB + 2200-6500K
• Use the Nedis® SmartLife app to set timings for switching on/off automatically
• Supports voice control - in combination with Amazon Alexa or Google Home
• Fully integrates with your Nedis SmartLife application (through the Nedis® Zigbee gateway) to combine with other smart products in automations.


Take control of your lights with this smart bulb that connects directly to your Nedis Zigbee gateway to offer remote control as part of your home automation system. You can control the bulb's colour and brightness with the Nedis SmartLife app or link the bulb to Google Home or Amazon Alexa to operate with your voice. For more convenience, you can also use the Zigbee remote control to easily turn the Smart Bulb on and off or adjust its brightness.

Thanks to the timer function, you can create time schedules for the bulb to be switched on or off or create smart scenarios in an instant by pairing this bulb to other products from the Nedis SmartLife range.

The Zigbee lamps are ideal to use at places which have not a stable Wi-Fi signal via the router like for instance in the garden. By connecting these bulbs via your gateway you create a mesh network through these bulbs so it becomes very easy to have smart lights on places with a bad Wi-Fi connection.

Easy to set up
You don't need to be a technical genius or an electrician to control and automate your plugged-in appliances and devices. All you actually need is a Smart Bulb and your Zigbee gateway. Our intuitive Nedis SmartLife app will give you the ability to switch appliances on and off remotely and automatically.
Packaging
Package contents
Smart bulb
Manual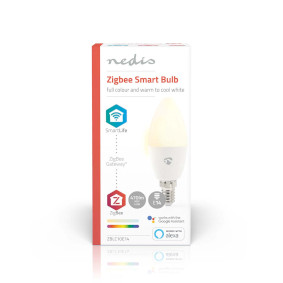 Retail package dimensions Giftbox with eurolock
| Width | Height | Length |
| --- | --- | --- |
| 65 mm | 122 mm | 64 mm |
Logistic dimensions
| Packed per | Width | Height | Length | Weight |
| --- | --- | --- | --- | --- |
| 1 | 65 mm | 155 mm | 65 mm | 69 g |
| 10 | 75 mm | 270 mm | 325 mm | 788 g |
| 50 | 340 mm | 285 mm | 380 mm | 4400 g |
Product specifications
Width
37 mm

Height
107 mm

Depth
37 mm

Weight
29 g

Colour
White

Material
Plastic

Maximum transmit power
10 dBm

Compatible with
Nedis® SmartLife

Colour rendering index (Ra)
80

Maximum transmit antenna gain
1 dBi

Technology
LED

Lamp shape
Candle

Base
E14

Energy consumption per 1000 hours
5 kWh

Rated life time of lamp
15000 h

App available for
Android™
IOS

Transmit frequency range
2412 - 2472 MHz

Rated luminous flux
470 lm

Light colour
RGB
Warm to Cool White

Packaging
Gift Box with Euro Lock

Dimmable
Yes

Maximum power consumption
4.9 W

Number of lamps in packaging
1 pcs

Bulb diameter
37 mm

Number of switching cycles
15000 Switching Cycles

Energy class
F

Beam angle
200 °

Light source
LED

Input voltage
220 - 240 V AC

Operating temperature range
-20 - 45 °C

Colour temperature
2200 - 6500 K

Wattage equivalent
45 W

Supported wireless technology
Zigbee 3.0

SmartLife
Yes

Support
Declaration of Conformity
English
Other languages