SmartLife LED Bulb
Wi-Fi | E27 | 800 lm | 9 W | Warm White | 2700 K | Android™ / IOS | A60 | 3 pcs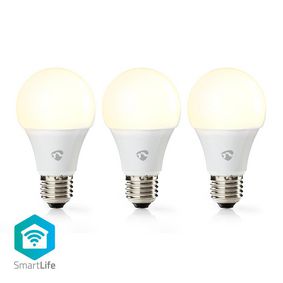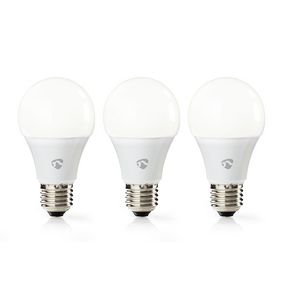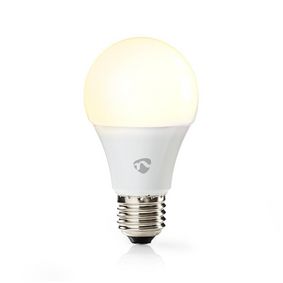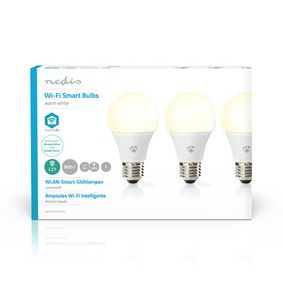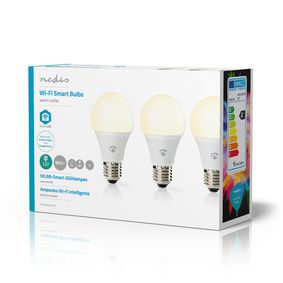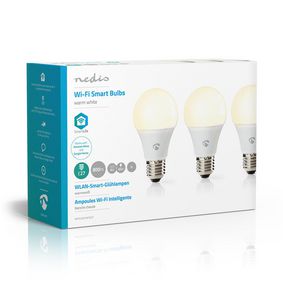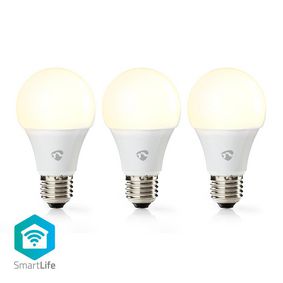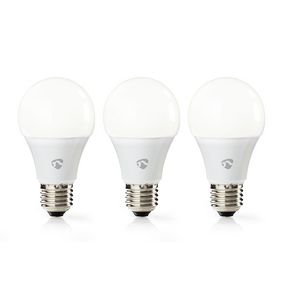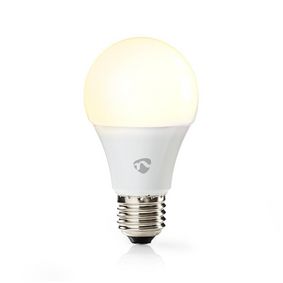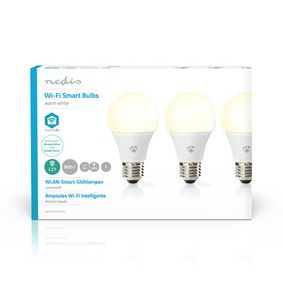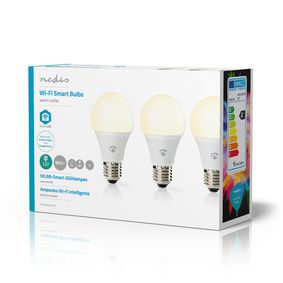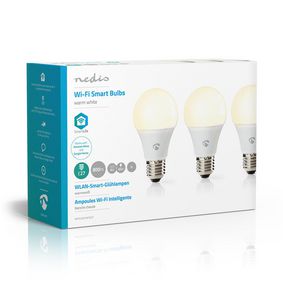 Features
Vendor Part Number: WIFILW31WTE27
EAN number: 5412810313242
• Automate your lights without all the fuss - connects directly to your Wi-Fi router
• Change the brightness of your lights remotely - via your smartphone or tablet
• Supports voice control - via Amazon Alexa or Google Home
• Schedule your bulb to switch on - or create scenes by coordinating it with other Nedis® SmartLife products






Take control of your lights with this Smart Bulb that connects directly to your wireless/Wi-Fi router to offer remote control as part of your home automation system.

Easy to set up
You don't need to be a technical genius or an electrician to control and automate your lighting remotely. All you actually need is your Wi-Fi router, our intuitive app and these Nedis® wireless smart bulbs. No extra kit and no connecting hubs: this is home automation made simple.

Control the bulb's brightness
Connect them up and you can now control the brightness by using your smartphone or tablet. And if you're getting super smart you can even control them with your voice via Amazon Alexa or Google Home.

Set up schedules and pair with other smart products
Set up time schedules for the bulb to be switched on or create ambient scenes in an instant by pairing this bulb to other products from the Nedis® SmartLife range.

Eco-friendly
Your home not only gets smarter, it also gets eco-friendlier. These energy-efficient bulbs have a maximum power consumption of 9 W but they give you an output of around 800 lumen, which is the same as most 60 W bulbs offer.

About Nedis® SmartLife
Discover a wide and ever-expanding range of products - such as bulbs, switches, sockets, sensors, and cameras - that can all be controlled through an easy-to-use and intuitive app. With voice control features supported by Amazon Alexa and Google Home, and no need for anything more than your existing Wi-Fi network, this is the connected, smart home made simple.
Whether you're looking for a single smart bulb or socket, or you want to automate your entire house, discover how accessible smart technology is today.
Packaging
Package contents
3x smart bulb
Quick start guide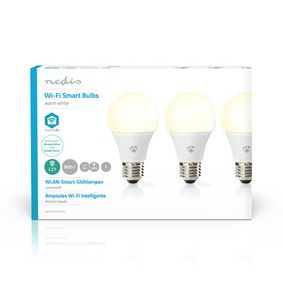 Retail package dimensions Giftbox with eurolock
| Width | Height | Length |
| --- | --- | --- |
| 63 mm | 125 mm | 184 mm |
Logistic dimensions
| Packed per | Width | Height | Length | Weight |
| --- | --- | --- | --- | --- |
| 1 | 130 mm | 65 mm | 185 mm | 300 g |
| 5 | 180 mm | 130 mm | 320 mm | 1480 g |
| 20 | 345 mm | 160 mm | 755 mm | 6540 g |
Product specifications
Width
60 mm

Height
110 mm

Depth
60 mm

Weight
90 g

Colour
White

Material
Plastic

Compatible with
Nedis® SmartLife

Maximum transmit power
16 dBm

Maximum transmit antenna gain
2 dBi

Energy consumption per 1000 hours
9 kWh

Colour rendering index (Ra)
80

Beam angle
220 °

Lamp shape
A60

Energy class
A+

Base
E27

Wattage equivalent
60 W

Rated luminous flux
800 lm

Rated life time of lamp
25000 h

Input voltage
230 V AC 50 Hz

Maximum power consumption
9 W

Light colour
Warm White

Technology
LED

App available for
Android™
IOS

Transmit frequency range
2400 - 2484 MHz

Packaging
Gift Box with Euro Lock

Dimmable
Yes

Supported wireless technology
Wi-Fi

Number of lamps in packaging
3 pcs

Number of switching cycles
10000 Switching Cycles

Dimmable by app
Yes

Colour temperature
2700 K

Light source
LED

Operating temperature range
-20 - 45 °C

SmartLife
Yes

Support
Frequently asked questions
The Smart installation did not work, is there another way to install it?

You can select AP-mode on the top right of the first screen of the installation.
The app will ask you to reset the bulb and connect to the wifi signal if the bulb.
I want to control my Nedis SmartLife products with Google Assistant. But I can't control them.
To control your Nedis SmartLife products with Google Assistant, you need to assign your Smart Life products in a room also in Google home.

1. Start the Google home app.
2. choose Settings
3. choose More Settings
4. Go to the tab off your home.
5. If a device is not assigned to room, tab on the device name and assign it to a room.

Now, you can control your devices by Google home products.



How do i add Nedis SmartLife to Google Home?
Add the "Smart Life" service to Google Home (no Nedis in the name).

Go in Google Home to Assistent -> Home Control and choose here "Smart Life" as service.

Use the Login details of the "Nedis Smartlife" app.
Compatible Nedis SmartLife products will then be added to Google Home.


An automation can be used to make a certain "event"(condition), trigger another action (Task)
A condition can be anything from motion detection, to a certain time, a certain temperature, sunrise.
Then you can make this condition turn on lights, turn on smart plugs, make a siren sound or a combination of multiple tasks.
Maximum number of members that can be added to a family.
You can add maximum 20 members.
Can I give other people access to my Smartlife devices too?
Yes you can.
Each person needs a unique account on their mobile device.
To add them as "family members" follow these steps:
In the main screen of the app tap on the name of your home (top left)
Tap on Home management
Tap on the name of your home again.
Tap on "add family members" and fill in the account details of the person you want to add.
It will give them access to all the devices in your home as a normal member or admin (you can select this)

If you only want to share a single device in a home, go to the settings menu of the device and select "share device" -> add member.
My Smartlife products lose the Wifi connection every time.
This is probably a Wifi problem, this can be for various reasons.
1.) Wifi signal is unstable.
2.) Wifi signal is too weak.
3.) Using an access point with the same SSID and password that do not support the IEEE 802.11R standards.

Problem 1 can often be solved by restarting the router.
Problem 2 can be checked with an app Wifi analyzer with this the signal can be viewed and corrected to a better position.
Problem 3 can be checked as the access points are turned off, the Wifi signal is still good and the connection remains if the access points are a problem, a Mesh solution can then be used.
Please make sure that they support IEEE 802.11R standard.