Security & Safety/Home Prevention/Gas Detection
SmartLife Gas Detector
Zigbee 3.0 | Mains Powered | Sensor life cycle: 5 year | EN 50194-1:2009 | Android™ / IOS | With test button | 75 dB | White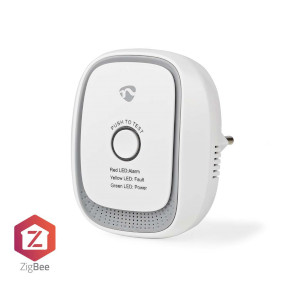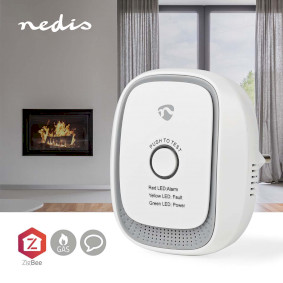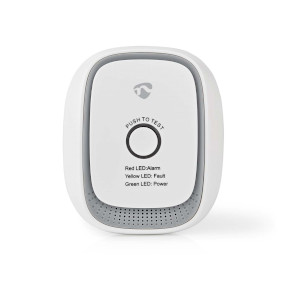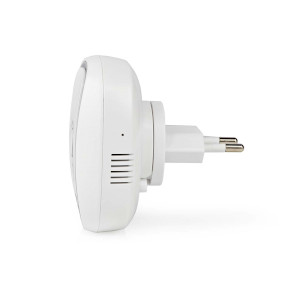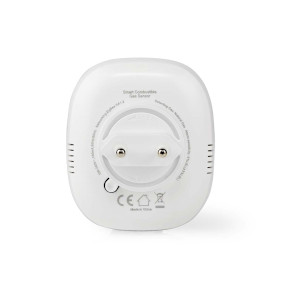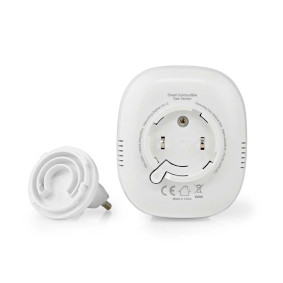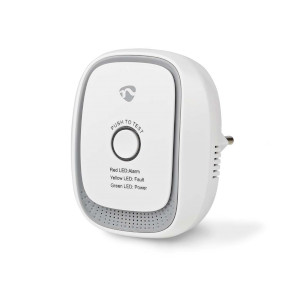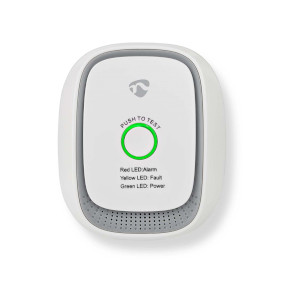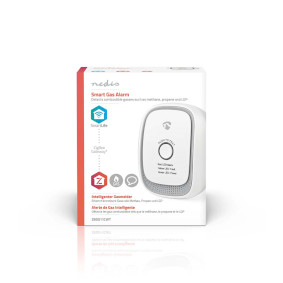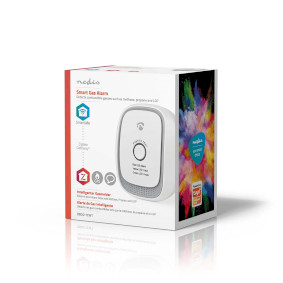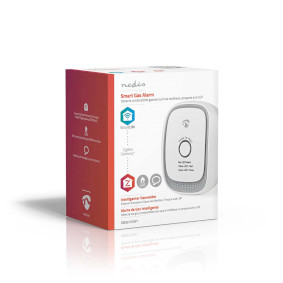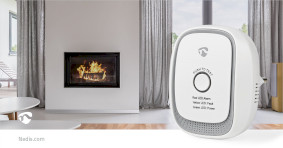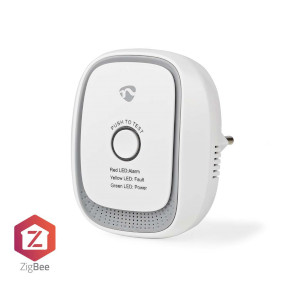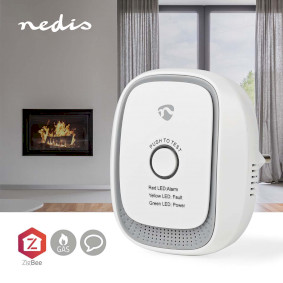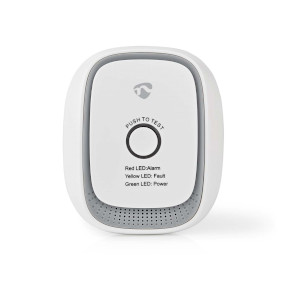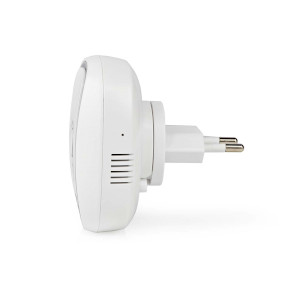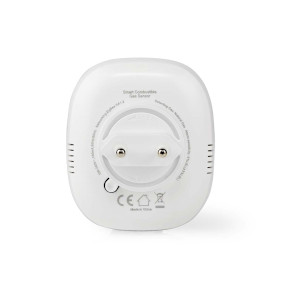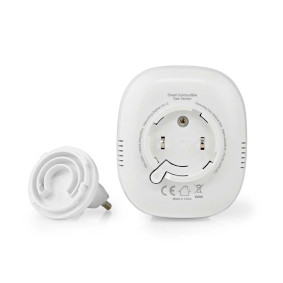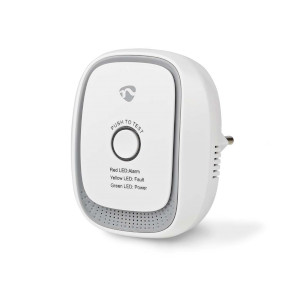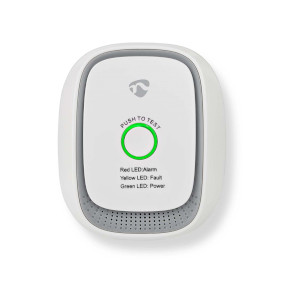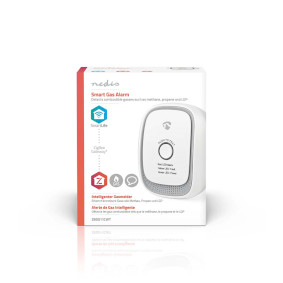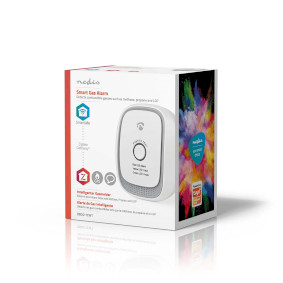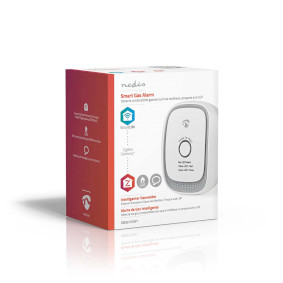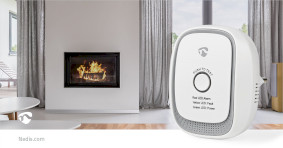 Features
Vendor Part Number: ZBDG11CWT
EAN number: 5412810402120
• Detects gas - to make sure that you will be alerted in time in case of increased gas concentrations
• EN 50291 certified – conform European norm
• Mains powered
• High quality sensor - with estimated 5-year lifespan
• Powerful alarm - offering an early warning of over 75 dB
• Test or mute with the large button or from within the app
• Fully integrates with your Nedis® SmartLife application (through the Nedis® Zigbee gateway) to combine with other smart products in automations to enhance safety
• Simple to install - using included wall plate, screws and mount


This Nedis Smart Zigbee Gas Detector is a mains-powered detector to increase your safety. The high sensitivity of the sensor makes it possible to detect a minimum amount of natural gas (methane) and makes sure that you will be alerted in time in case of increased concentrations of gas with a loud alarm of 75 dB. Next to that, you will get a notification on your phone, no matter where you are. This requires the Nedis Zigbee Gateway (WIFIZBxxx) and the free Nedis SmartLife app.

The result is protection and a safe feeling for you and your family at home. The placement of a gas detector is important because certain gases rise to the top and others remain low to the ground. You always place a gas detector near the source, for example near your central heating boiler, stove, or gas bottles.

The detector includes a test button for periodic checks, a mute button to silence the alarm for 5 minutes when the situation is under control, an end-of-life warning (after approx. 5 years) both visually with LEDs on the detector and in the application.

The detector is mains powered and has a plug-in design so you can easily place it near any potential source or leak of gas, such as the garage or kitchen.

Important: This product contains highly sensitive components. Always make sure to store and/or use the product in working environments of between -10 and 40° Celsius.
Packaging
Package contents
Detector
Installation materials
Quick start guide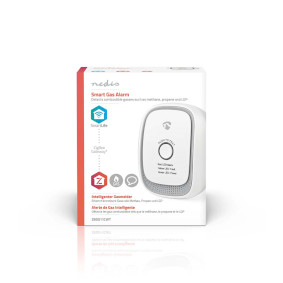 Retail package dimensions Giftbox with eurolock
| Width | Height | Length |
| --- | --- | --- |
| 75 mm | 125 mm | 105 mm |
Logistic dimensions
| Packed per | Width | Height | Length | Weight |
| --- | --- | --- | --- | --- |
| 1 | 75 mm | 160 mm | 105 mm | 170 g |
| 5 | 125 mm | 150 mm | 390 mm | 1020 g |
| 20 | 265 mm | 335 mm | 410 mm | 4600 g |
Product specifications
Colour
White

Power source type
Mains Powered

Material
Plastic

With pause button
No

With test button
Yes

Power plug
Euro

Maximum transmit antenna gain
2 dBi

Lifespan in years
5 year

Sensor life cycle
5 year

App available for
Android™
IOS

Operating temperature
-10 - 50 °C

Maximum transmit power
13 dBm

Detector type
LPG
Natural Gas
Town Gas

EN-compliant
EN 50194-1:2009

Maximum power consumption
1.5 W

Number of Products in Package
1 pcs

Control Through Mobile App
Yes

Sound
75 dB

Wireless technology
Zigbee 3.0

Transmit frequency range
2400 - 2485 MHz