Safety and Security/Detectors/Smoke Alarm
SmartLife Smoke Detector
Wi-Fi | Heat sensor | Battery Powered | Sensor life cycle: 10 Year | EN 14604 | Max. battery life: 24 months | 85 dB | White | 1 pcs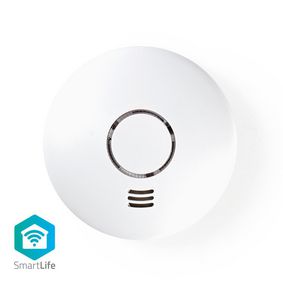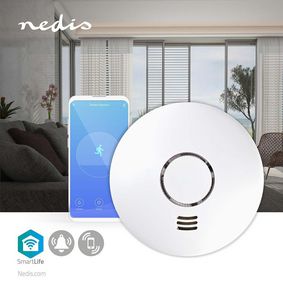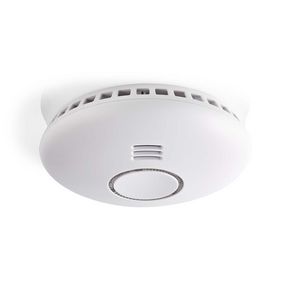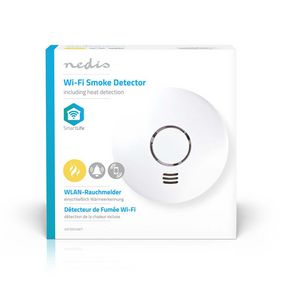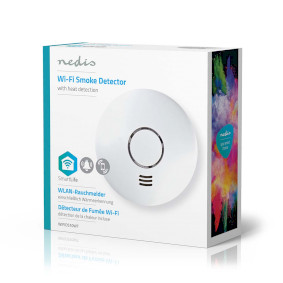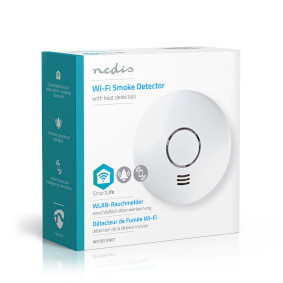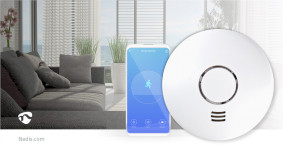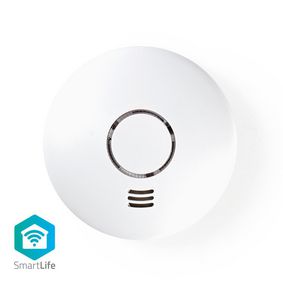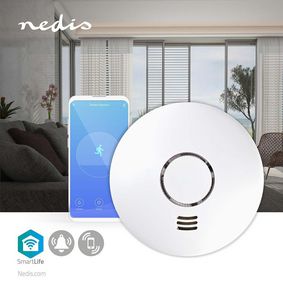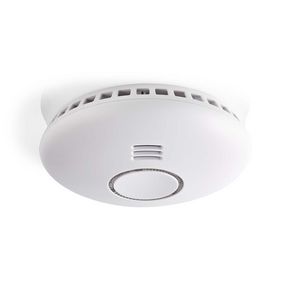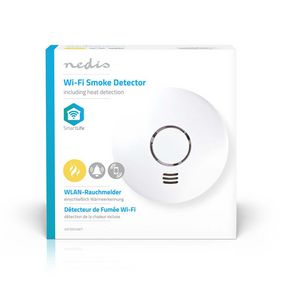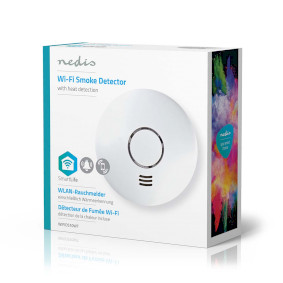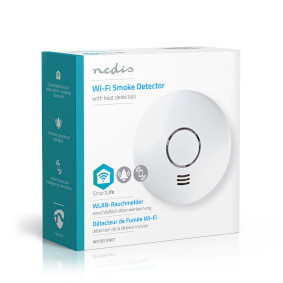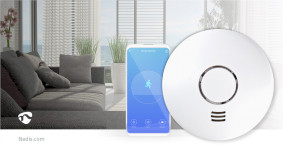 Features
Vendor Part Number: WIFIDS10WT
EAN number: 5412810303755
• Wi-Fi smoke detector - alerts you of both smoke and excessive increases in temperatures for complete peace of mind
• Easy to connect to your Wi-Fi - for alerts to your phone
• Loud alarm - to warn those in and around the house of danger
• Can be paired with other SmartLife products - to automatically activate lights when the alarm sounds, for example






This Wi-Fi smoke detector alerts you if there is either smoke or an excessive build up of heat - and it does so with a loud alarm for those nearby and an alert sent to your phone wherever you may be.

Easy to install, this smoke and heat detector simply connects to your Wi-Fi with no need of a hub.

It offers the peace of mind of two safety features, detecting both smoke and a rapid increase in temperature.

It can be simply paired to other SmartLife products for additional safety features. These could include, for example, having your smart light bulbs switch on when smoke is detected to enable a safe exit.

About Nedis SmartLife

Discover a wide and ever-expanding range of products - such as bulbs, switches, sockets, sensors, and cameras - that can all be controlled through an easy-to-use and intuitive app. With voice control features supported by Amazon Alexa and Google Home, and no need for anything more than your existing Wi-Fi network, this is the connected, smart home made simple. Whether you're looking for a single smart bulb or socket, or you want to automate your entire house, discover how accessible smart technology is today.
Packaging
Package contents
Smoke detector
Installation materials
Quick start guide
Retail package dimensions Giftbox with eurolock
| Width | Height | Length |
| --- | --- | --- |
| 125 mm | 125 mm | 50 mm |
Logistic dimensions
| Packed per | Width | Height | Length | Weight |
| --- | --- | --- | --- | --- |
| 1 | 50 mm | 155 mm | 130 mm | 234 g |
| 10 | 270 mm | 145 mm | 270 mm | 2480 g |
| 40 | 295 mm | 315 mm | 555 mm | 10520 g |
Product specifications
Width
120 mm

Height
36 mm

Depth
120 mm

Weight
160 g

Colour
White

Input current
1.0 A

Power source type
Battery Powered

Material
Plastic

With test button
Yes

Sensor life cycle
10 Year

Sound
85 dB

With pause button
Yes

Compatible with
Nedis® SmartLife

Maximum transmit antenna gain
2 dBi

Battery type
AA

Input voltage
3 V DC

Maximum power consumption
3 W

Maximum transmit power
17 dBm

App available for
Android™
IOS

Diameter
120 mm

Supported wireless technology
Wi-Fi

Transmit frequency range
2412 - 2484 MHz

Number of Products in Package
1 pcs

Control Through Mobile App
Yes

Lifespan in years
2 year

EN-compliant
EN 14604

Max. battery life
24 months

Required batteries (included)
2x AA/LR6

Heat sensor
Yes

Operating temperature range
5 - 37 °C

SmartLife
Yes

Support
Declaration of Conformity
English
Other languages
Frequently asked questions
Can I make a setting that all installed Smart Smoke alarms give alarm when 1 unit is in alarm mode?
No, this is not possible.
The smoke alarm is in standby (off-line) mode in the app, when not triggered.

If you want to hear for example, the smoke detector alarm upstairs you can use the Wi-FI Smart Siren WIFISI10CWT.
When i push the test button, I receive no notification.
Please hold the test button between the 5 - 10 seconds.

If you want to test the smoke alarm if the sensor is working.
We recommend you to use a smoke detector test spray.
I want to receive notifications from my detector.
create an automation for this:
Tap scenario > + > when the device status changes > select the device > select all the options
Send notification > receive > on > on
Save.
My device does not show up in Google Home.
This device is not compatible with Google Home.
If one detector sounds the alarm, will it trigger other detectors?
No, these detectors are not linked like that.
They are not connected to your wifi all the time.
They are in a sort of sleep mode until they measure smoke and/or heat
If this happens, they wake up, connect to your wifi and send a signal to the server which sends a notification to your phone.
Because they are not connected constantly, you can't send a signal to the detector and activate it.

You can use automations to activate sirens, lights and smart plugs for example.
Smoke detectors are showing battery low. I have changed the battery, but it still shows battery low.
push the test button, so the smoke detector will go online. Now the battery indicator will be updated.
An automation can be used to make a certain "event"(condition), trigger another action (Task)
A condition can be anything from motion detection, to a certain time, a certain temperature, sunrise.
Then you can make this condition turn on lights, turn on smart plugs, make a siren sound or a combination of multiple tasks.
Maximum number of members that can be added to a family.
You can add maximum 20 members.
Can I give other people access to my Smartlife devices too?
Yes you can.
Each person needs a unique account on their mobile device.
To add them as "family members" follow these steps:
In the main screen of the app tap on the name of your home (top left)
Tap on Home management
Tap on the name of your home again.
Tap on "add family members" and fill in the account details of the person you want to add.
It will give them access to all the devices in your home as a normal member or admin (you can select this)

If you only want to share a single device in a home, go to the settings menu of the device and select "share device" -> add member.