Digital Wireless Observation Set | 2.4 GHz | 1x Camera | Wireless Display
Security & Safety/Observation/Security Sets
Digital Wireless Observation Set | 2.4 GHz | 1x Camera | Wireless Display
Brand: Nedis
Article number: CSWL140CBK
EAN number: 5412810306046
Digital Wireless Observation Set | 2.4 GHz | 1x Camera | Wireless Display
Vendor Part Number: CSWL140CBK
EAN number: 5412810306046
This rechargeable, wireless, digital camera system allows you to remotely monitor your home, shop or office.

It's simple to set up: connect the camera and the monitor to separate power sockets and within seconds they pair wirelessly, with the monitor providing live images and sound recorded by the camera.

A fully-charged monitor works for 2 hours and can be moved anywhere within 50 - 150 metres of the camera (depending on the environment). This allows you to take the monitor with you into the garden or upstairs and still have full visibility of the room or area you are watching.

You can also insert an SD card (max. 32 GB) or a USB HDD (max. 1 TB) into the display to record scheduled or triggered events that you specify - the camera incorporates IR-LEDs to enable night vision and an integrated PIR for accurate motion detection.

Expand this rechargeable digital wireless camera system with up to four cameras for an even larger coverage - and you can still see it all from just one monitor.
Features
• No internet connection required - to minimise data security issues • Monitor your property for up to 2 hours wireless operating time on a single charge • Integrated PIR for accurate motion detection - to set up triggers for recording activity • Expandable up to 4 cameras - to use your monitor to record and observe four different areas • IR-LEDs to enable night vision (5.0 m) - security that never sleeps • Plug & play setup • Direct wireless connection
Others also bought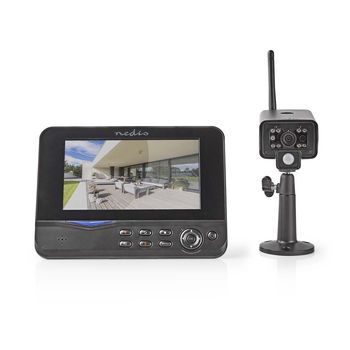 Digital Wireless Observation Set | 2.4 GHz | 1x Camera
Package contents
Camera with bracket
Rechargeable 7" monitor
2x antenna
2x AC/DC power supply (EU)
Quick start guide
Product specifications
Colour
Black

Power plug
Euro / Type C (CEE 7/16)

IP rating
IP54

Camera design
Bullet

Maximum resolution
VGA

Camera-ingang
4

Image chip
1/4" CMOS

Batteries included
Built-In Lithium-Ion

Wireless technology
2.4 GHz

Operating temperature
-10 - 50 °C

Type
Wireless

Storage type
SD
HDD 1 TB

Interface
AV

Number of cameras
1x Camera

Accessories
Camera Mount
AC Adapter EU Plug

LED
9

Viewing angle
73 °

Antenna gain
2 dBi

Feature
1-Way Audio
Night Vision
Easy to Install
Incl 1x Bullet
Accurate Motion Sensor (PIR)
Rechargeable

Lens
2 mm

Input voltage
230 VAC 50 Hz

Cable length
1.5 m

Maximum radio transmit power
9.82 dBm

Frequency range
2400 - 2480 MHz

Screen size
7"

Night vision
5.0 m

You may be also interested in these product(s)