Smart Home/Security & Safety/Detectors
SmartLife Smoke Detector
Wi-Fi | Battery Powered | Sensor life cycle: 10 year | EN 14604 | Max. battery life: 24 Months | Android™ / IOS | 85 dB | White | 3 pcs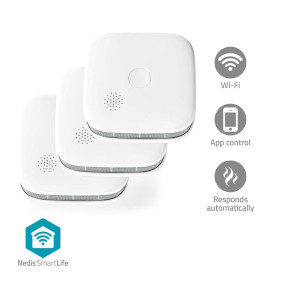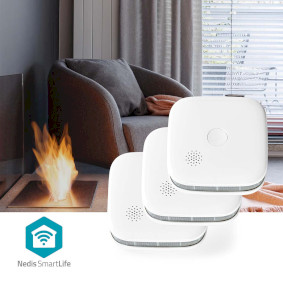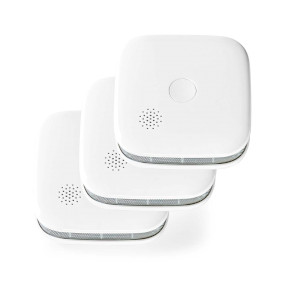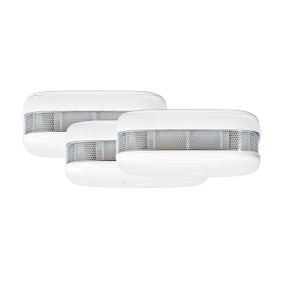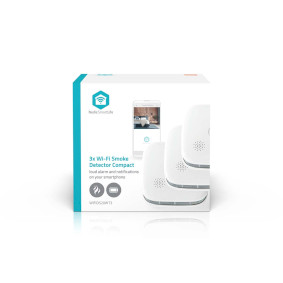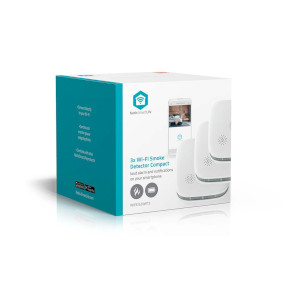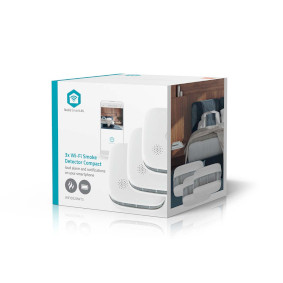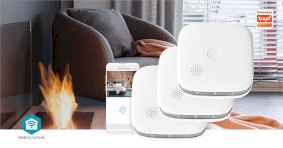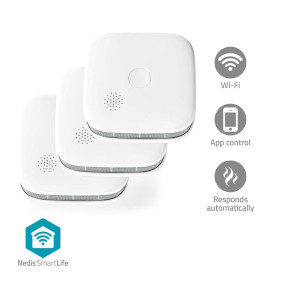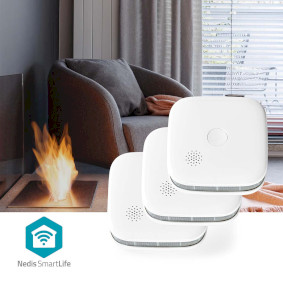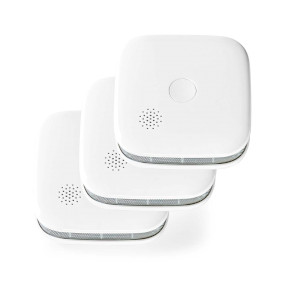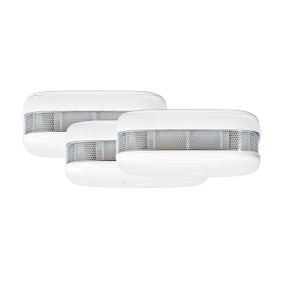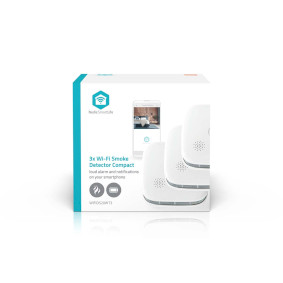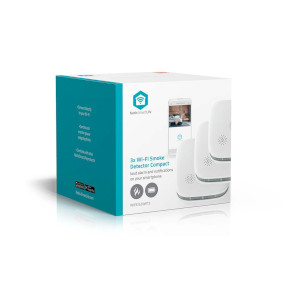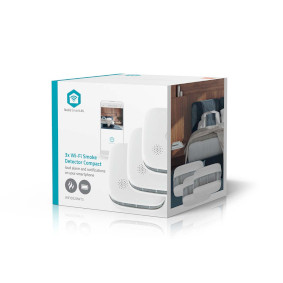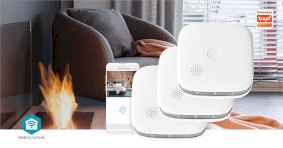 Features
Vendor Part Number: WIFIDS20WT3
EAN number: 5412810407422
• Smart Smoke Detector - responds automatically when smoke is detected
• Wireless: place the smoke detector anywhere in the house
• Compact size of 76 x 76 x 28.5 mm
• Photoelectric detector, tested according to EN 14604
• Dual light source detection, free from dust & vapor-led false alarms
• Loud alarm signal of 85 dB
• CR123A Battery powered, included (up to 2 years lifetime)
• Low power consumption and self-check as well as low-voltage indication function
• With test button and indication LED light
• Easy to install and minimal maintance
• Supplied with screws and self-adhesive tape pad
• Create numerous automations in the Nedis® SmartLife App for extra safety
This smart Nedis smoke detector always makes you feel safe, even when you are away from home. When smoke is detected, this device will send a notification to your smartphone and a loud alarm goes off. Simply connect the smoke detector to your Wi-Fi and you will be notified through the free Nedis SmartLife App. Thanks to App, you see immediately in which room your connected smart smoke detector is sounding. This allows you to act in a targeted manner in an emergency.

Its compact size of only 76 x 76 x 28.5 mm enables you to position it anywhere around the house and makes it unobtrusive, so it will blend in with the interior.

With the Nedis SmartLife App, it is possible to connect and combine the smoke detector to your other smart home products for extra safety. When smoke is detected, you can e.g. arrange that the lights are switched on or the shutters will be opened, or numerous other automations to make your home as secure as possible.

The smoke detector runs on battery which has high sustainability due to its life span of up to 2 years. When the battery is running low, you will receive a notification on your smartphone. This prevents from being bothered by annoying beep sounds in the middle of the night.

About Nedis SmartLife
Discover a wide and ever-expanding range of products - such as bulbs, switches, sockets, sensors, and cameras - that can all be controlled through an easy-to-use and intuitive app. With voice control features supported by Amazon Alexa and Google Home, and no need for anything more than your existing Wi-Fi network, this is the connected, smart homemade simple. Whether you're looking for a single smart bulb or socket, or you want to automate your entire house, discover how accessible smart technology is today.
Packaging
Package contents
Smoke detector
Adhesive pad
Screws
Manual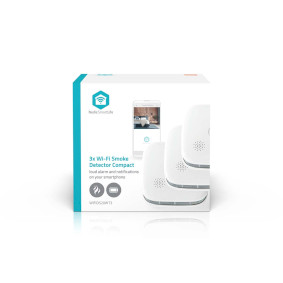 Retail package dimensions Giftbox with eurolock
| Width | Height | Length |
| --- | --- | --- |
| 100 mm | 100 mm | 95 mm |
Logistic dimensions
| Packed per | Width | Height | Length | Weight |
| --- | --- | --- | --- | --- |
| 1 | 105 mm | 100 mm | 105 mm | 322 g |
| 6 | 215 mm | 115 mm | 320 mm | 2100 g |
| 24 | 335 mm | 265 mm | 445 mm | 9300 g |
Product specifications
Colour
White

Power source type
Battery Powered

Material
Plastic

Lifespan in years
10 year

With test button
Yes

Sensor life cycle
10 year

Includes mounting material
Yes

Sound
85 dB

With pause button
Yes

Required batteries (included)
1x CR123A

Compatible with
Nedis® SmartLife

Wireless technology
Wi-Fi

Maximum transmit antenna gain
3 dBi

Input voltage
3 V DC

App available for
Android™
IOS

Operating temperature
-10 - 50 °C

Transmit frequency range
2412 - 2472 MHz

Maximum transmit power
20 dBm

Input current
1.4 A

Maximum power consumption
1.5 W

Number of Products in Package
3 pcs

EN-compliant
EN 14604

Max. battery life
24 Months

Support
Frequently asked questions
How do I reset the detector so I can add it to the app?
Take out the battery
Put the battery back
Press and hold the big button for 3 seconds.
The detector might make a loud(!) noise