Sound and Vision/Radios/FM
Kitchen Radio
Cabinet Design | FM | Mains Powered | Digital | 1.5 W | 2 " | Black Blue Screen | Alarm clock | Silver / White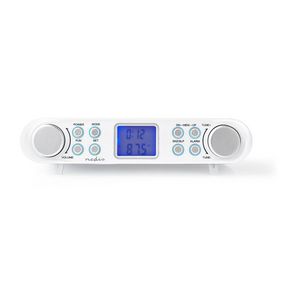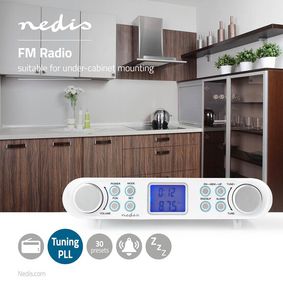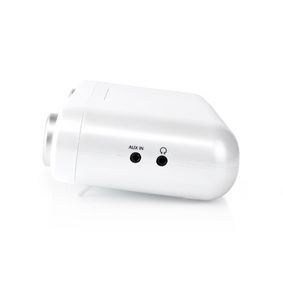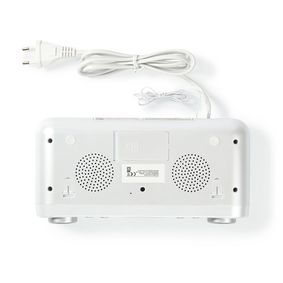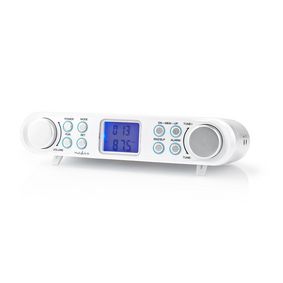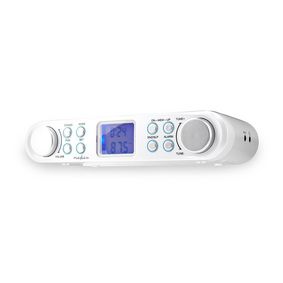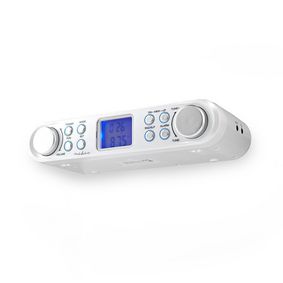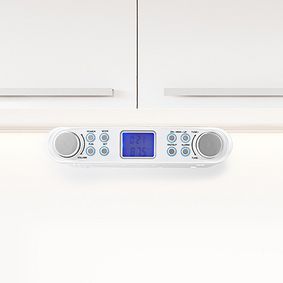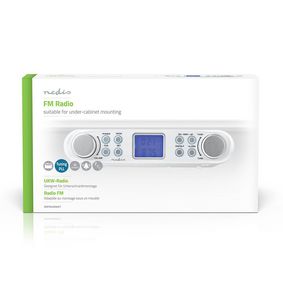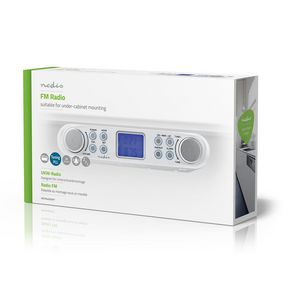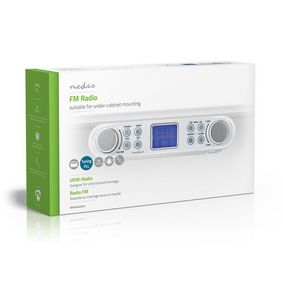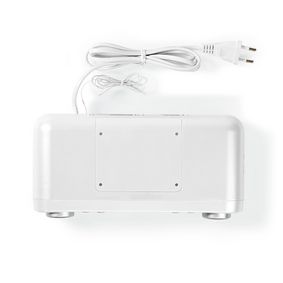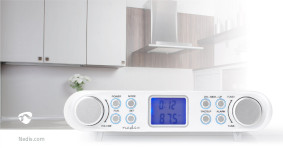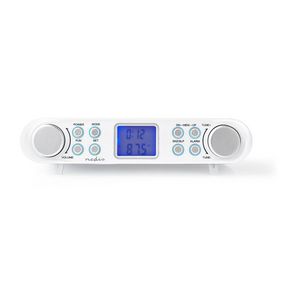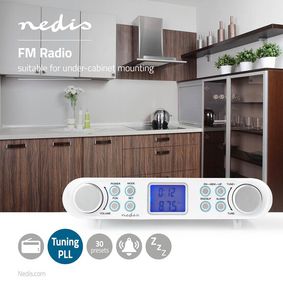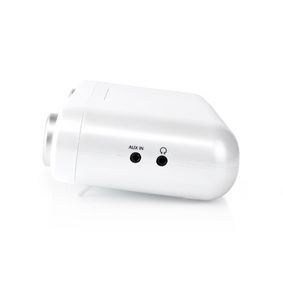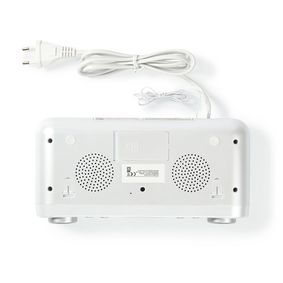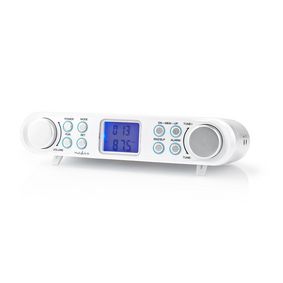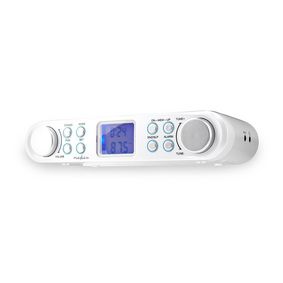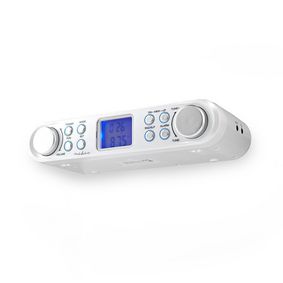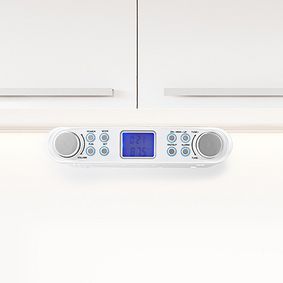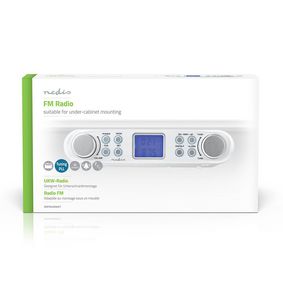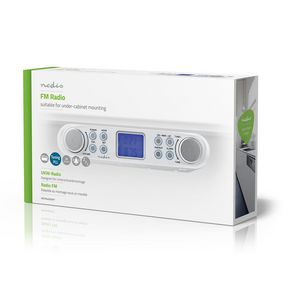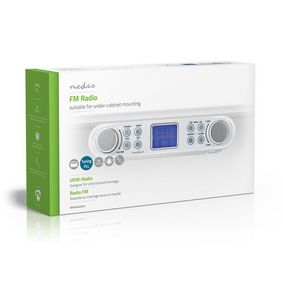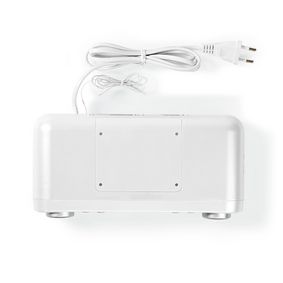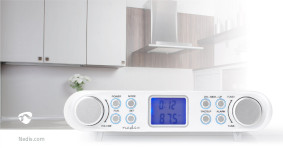 Features
Vendor Part Number: RDFM4000WT
EAN number: 5412810326532
• PLL digital tuning - enables optimum reception
• LCD display with blue backlight
• Display dims automatically between 11 p.m. and 5:00 a.m.
• Alarm clock function - with snooze button and sleep timer
• Stopwatch and countdown function - use it as a kitchen timer
• AUX input - connect CD or MP3 players, or smartphones
• 3.5 mm output - connect your headphones
• Under-cabinet mounting - saves valuable space
• Mains powered with backup batteries - retains (alarm clock) settings during a power outage
• Foldable feet - to also use the radio as stand-alone device

If you love listening to music while you're cooking or doing the dishes but there's hardly any room to put down a radio, this Nedis FM under-cabinet radio offers the perfect space-saving upgrade.
Simply install it under a kitchen cupboard or shelf with the included drilling template and screws.
The radio integrates a countdown function and stopwatch with alarm, which means you can also use it as a kitchen timer.
However, this under-cabinet radio is far more versatile. Think of mounting it in a workshop or shed, or in your bedroom as it also features a clock radio with snooze button, as well as a sleep timer for you to doze off to your favourite music.
30 presets and an AUX input to connect a CD player, MP3 player or smartphone enable you to select a radio station, your own playlists or favourite podcast to go with whatever suits your mood or activity.
Packaging
Package contents
Radio
4x screw
1x drilling template
Quick installation guide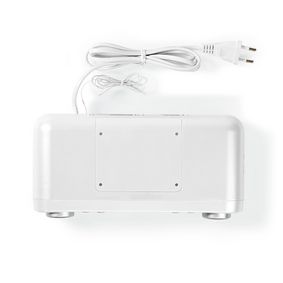 Retail package dimensions Giftbox
| Width | Height | Length |
| --- | --- | --- |
| 62 mm | 150 mm | 260 mm |
Logistic dimensions
| Packed per | Width | Height | Length | Weight |
| --- | --- | --- | --- | --- |
| 1 | 155 mm | 65 mm | 265 mm | 665 g |
| 20 | 330 mm | 320 mm | 535 mm | 13280 g |
Product specifications
Width
250 mm

Height
50 mm

Depth
122 mm

Weight
530 g

Colour
White
Silver

Material
ABS

Power source type
Mains Powered

Power plug
Type C (CEE 7/16)

Sound output
Stereo

Connection input
1x 3.5 mm

Speaker channels
2.0

Headphone output
Yes

Tuning type
Digital

Supported radio band
FM

Media playback
Radio
AUX

Antenna type
External

Speaker peak power
1.5 W

Speaker RMS
0.5 W

Alarm clock
Yes

Power cable side A
Euro / Type C (CEE 7/16)

Power consumption in standby mode
0.47 W

Screen
Black Blue Screen

FM frequency range
87.5 - 108 MHz

Screen size
2 "

Power cable length
1.40 m

Dimmable screen
Yes

Power consumption in operating mode
4 W

Number of Products in Package
1 pcs

Mid-range size
2 "

Timer
Yes

Battery power back-up
Yes

Radio type
Kitchen Radio

FM preset stations
30

Radio design
Cabinet Design

Required batteries (not included)
2x AA/LR6

Input voltage
100 - 230 V AC 50 Hz

SmartLife
No

Support
Declaration of Conformity
English
Other languages