IR Remote Control Extender | 30 - 60 KHz | For 6 Devices | 10.0 m Range | Anthracite
TV & Satellite/Remote Controls/Remote Control Extenders
IR Remote Control Extender | 30 - 60 KHz | For 6 Devices | 10.0 m Range | Anthracite
Brand: Nedis
Article number: IREX150AT
EAN number: 5412810326280
IR Remote Control Extender | 30 - 60 KHz | For 6 Devices | 10.0 m Range | Anthracite
Vendor Part Number: IREX150AT
EAN number: 5412810326280
Control up to six devices even if they are stored in closets. This Nedis® infrared remote control extender with extra IR receiver provides more flexibility to place your Blu-ray player, DVD player, set-top box and many more devices wherever you prefer.
Features
• Supplied with extra IR receiver to operate devices which are out of line of sight • Compatible with DVD players, set-top boxes, SATs, home cinema receivers and many more • Suitable to operate 6 devices
Others also bought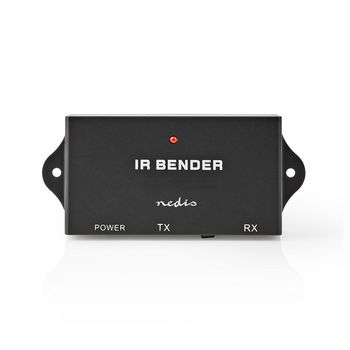 Nedis IR Remote Control Extender | 30 - 60 KHz...
Package contents
Infrared transceiver
Infrared receiver
6x infrared emitter cable
Power adapter
Product specifications
| | |
| --- | --- |
| Material | Metal |
| Transmission technology | Infrared |
| Colour | Anthracite |
| IR frequency | 30-60 kHz |
| Input voltage | 12 VDC |
| Range | 10.0 m |
| Transmission frequency | 0 MHz |
| Number of devices | 6 |
You may be also interested in these product(s)