New energy label for lighting
Since September 2021, new rules apply in the EU regarding the energy labels on lighting. It concerns light sources: LED bulbs or lamps, but it no longer concerns luminaires. A luminaire with a removable light source is designated as a "surrounding product". In 2023, the new label should be completely implemented.
Energy labels revised
The packaging, brochure, manual or website of light sources and luminaires almost always contains an energy label. This shows a scale of coloured arrows A to E and indicates which energy class the lighting product falls within. The energy label helps people to compare electric lamps and light fittings when it comes to energy consumption. The rules for the energy label are laid down in the Commission Delegated Regulation (EU) No 874/2012. However, because the energy consumption of LED light sources and LED luminaires is increasingly lower, the scale of the current energy label no longer covers the load properly. The energy label is therefore being revised.
New rules for energy labels
The European Commission has published Regulation (EU) 2019/2020 on ecodesign requirements for lighting and Regulation (EU) 2019/2015 on energy labelling of lighting. They will apply in all EU Member States since 1 September 2021. The scales on the energy label run from A (most efficient) to G (least efficient), provide information on energy consumption (expressed in kWh per 1000 hours) and have a QR code that links to more information in an online database.
---
The requirements for the higher classes (C to A) are set in such a way that they will only be achieved in the future. A luminaire that previously received a class A++ or A+++ will therefore not automatically receive a class A in the new situation. The design of the energy labels remains largely the same, incidentally. In the run-up to the actual introduction, some of the regulations surrounding the energy label have been abolished or amended since 25 December 2019. This relates to luminaires without a light source. An energy label may no longer be affixed to these. This also applies to all relevant information media such as the website, brochures, advertisements, quotations and data sheets.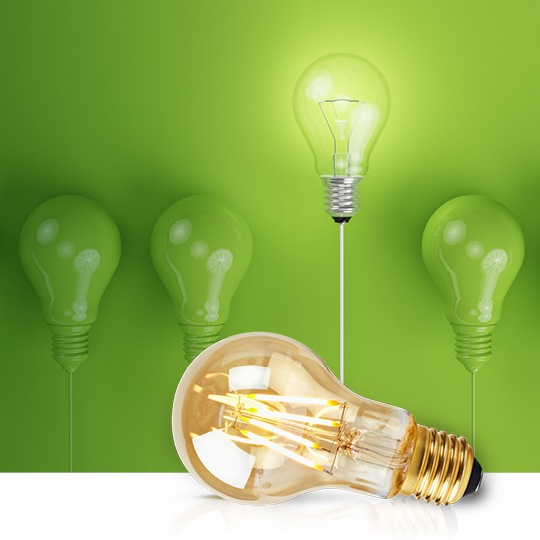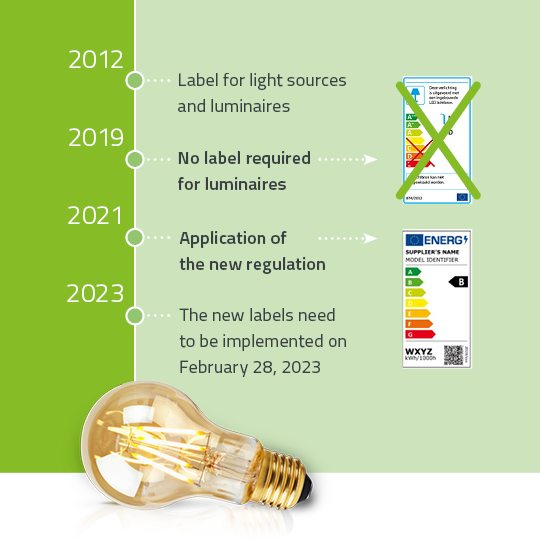 What do suppliers and dealers need to consider?
By abolishing the labelling regulations for luminaires, suppliers and dealers of luminaires without lamps must observe the following: the energy label or label-related information must not be included in advertisements (not even on the website). The label or label-related information may not be found in the product description or the technical data for the product (exception see last point). Energy labels may not be attached or affixed as part of the sale through a point of sale.
---
The packaging of luminaires and the documentation inside the packaging may not have an energy label. This applies to all lights placed on the market from 25 December 2019. Luminaires that were previously placed on the market do not have to be changed in this respect.