Expand Smart with Nedis & Zigbee
Looking for a budget friendly and energy efficient smart solution? Expand your Smart(Life) home with Zigbee!

Zigbee is an alternative protocol to Wi-Fi with low power consumption as the main advantage. This enables small wireless sensors to remain functional up to multiple years on a single battery. Instead of using Wi-Fi as a permanent connection, Zigbee listens and only uses energy when necessary.

Our new Zigbee addition contains several types of sensors and a remote control making it possible to control your entire home. Detect motion or if a door or window is opened and keep an eye on your indoor climate.
• Wireless, just stick the sensors wherever you like.
• Budget-friendly, making it accessible for everyone to create a smart home.
• No delay, reaction time under a second.

We will continue to expand the Zigbee and SmartLife product range. Discover how accessible smart technology is today!
Smart Zigbee Gateway
To keep your Zigbee products online you need a gateway. You can connect up to 50 Zigbee products to one gateway.

This gateway will connect directly to Wi-Fi, meaning that there is no need for an ethernet cable. To install it, open the Nedis® SmartLife app. Each connected product will appear in the Nedis® SmartLife app and can be included in automations and set-up scenarios.

Place your gateway near your Zigbee products. Are you using Zigbee only upstairs? Place your Gateway upstairs as well.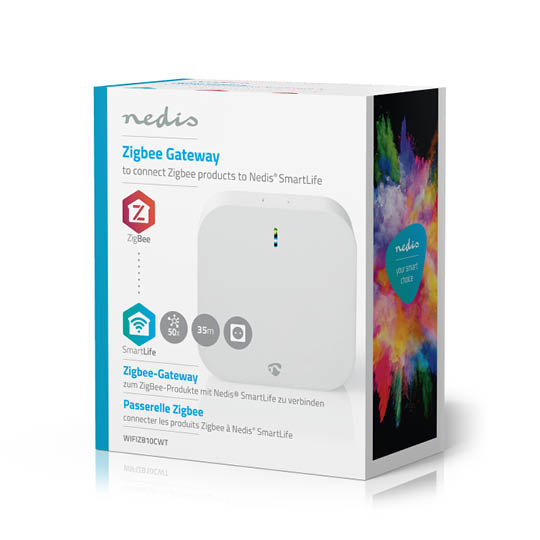 Explore the Zigbee Collection
Smart, Smarter. Smartest
Combine Zigbee with Nedis® SmartLife to take your smart home to the next level. All smart products that you can connect to the SmartLife app can work together. Create scenes that help you take control of your everyday life. For example:

Connect the Zigbee door sensor to your SmartLife Airconditioning. The door is open --> Turn off the AC.
The Zigbee motion detector notices someone on the stairs, turn on the SmartLife lights in your hallway or landing.
Use the Zigbee climate sensor to turn on the SmartLife heater once it gets below 20ºC.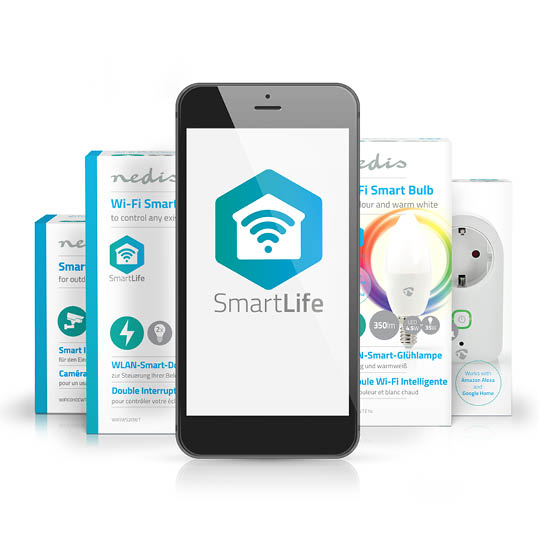 Download the SmartLife app
Control and monitor all of your smart devices with our mobile app. Create schedules and scenes for your devices or control your home from anywhere using the SmartLife app. You can make things automatically happen depending on the time of day, available light, weather or sunshine. Or any other product's state. Amazon Alexa and Google Home can be used to literally tell your devices what you want them to do for you.

The SmartLife app is available for free in the App Store or Google Play.