Computer/Storage & Memory/Harddisk Enclosures
Hard Disk Enclosure
2.5 " | USB 3.1 Gen1 | USB Type-A / USB Type-C™ | Notebook / PC | Aluminium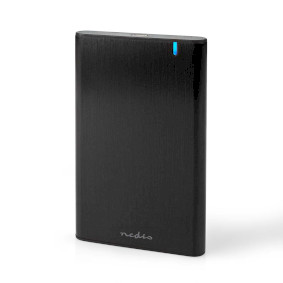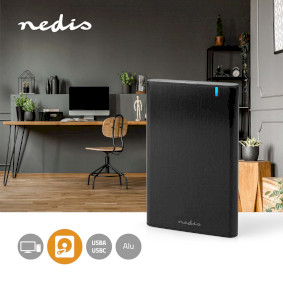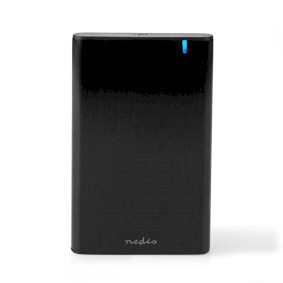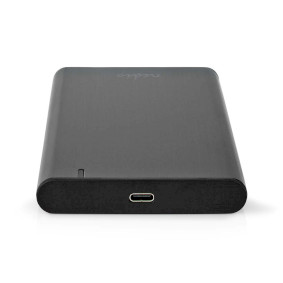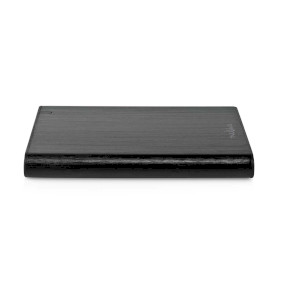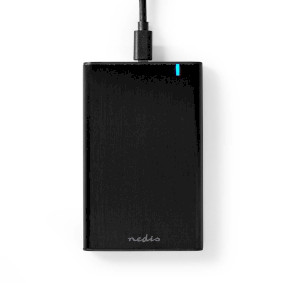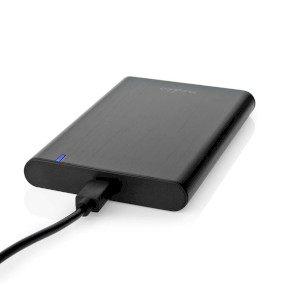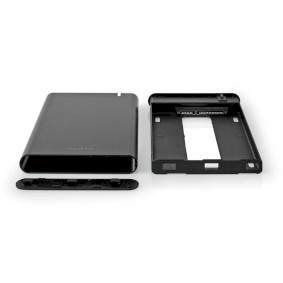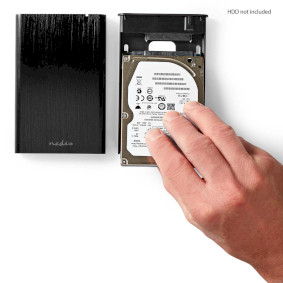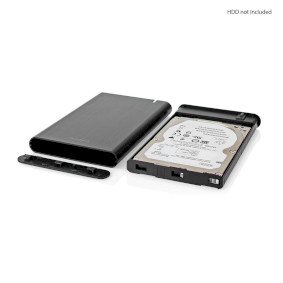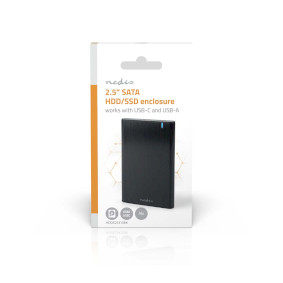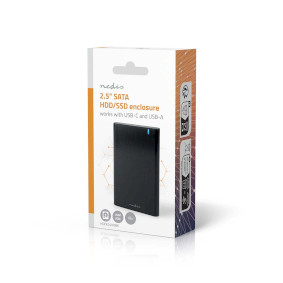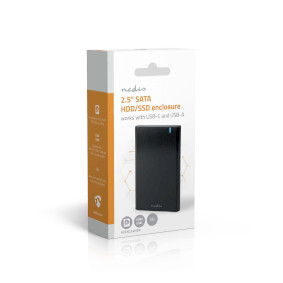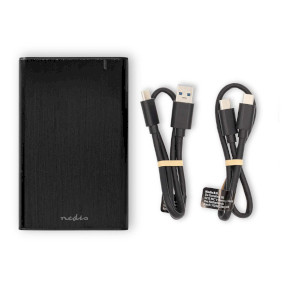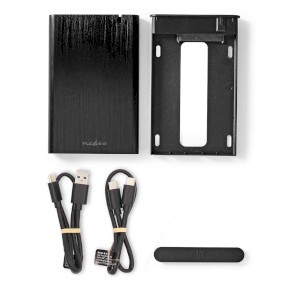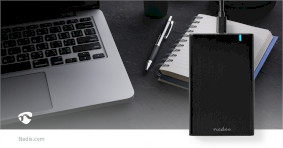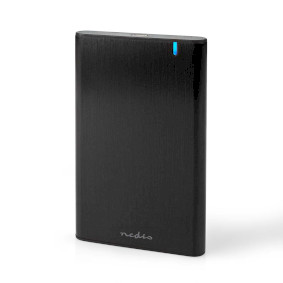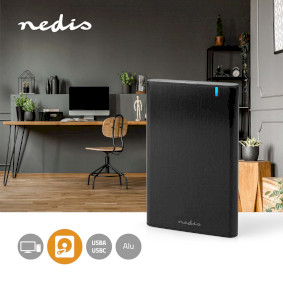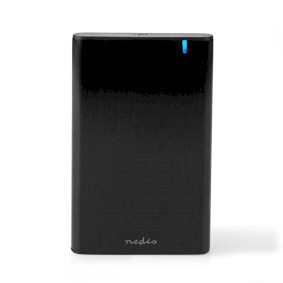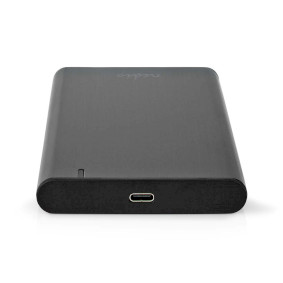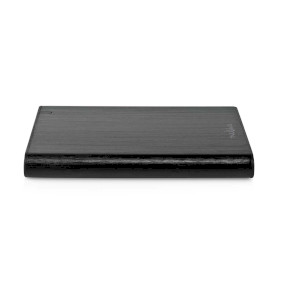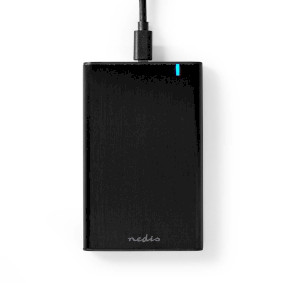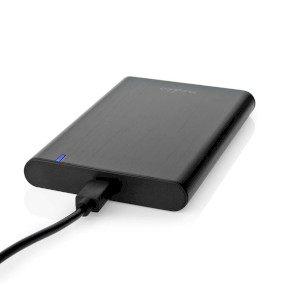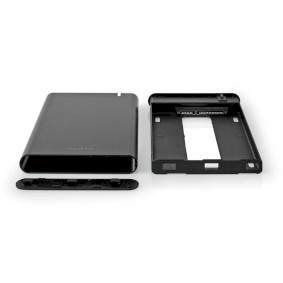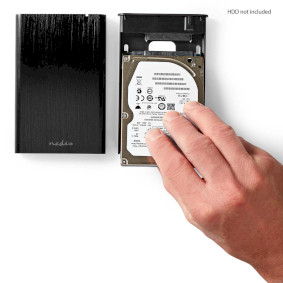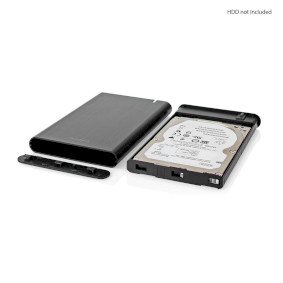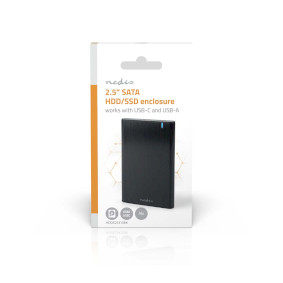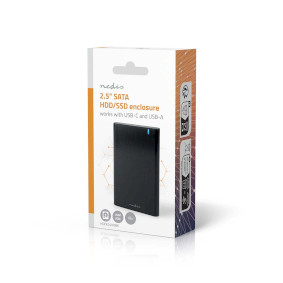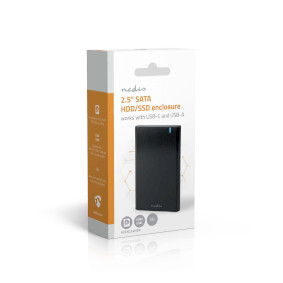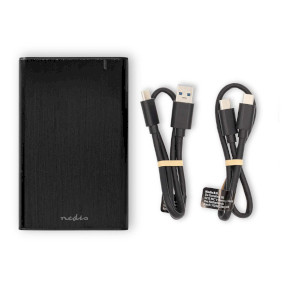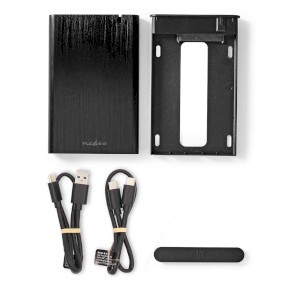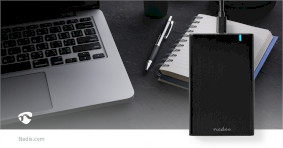 Features
Vendor Part Number: HDDE25410BK
EAN number: 5412810414208
• Portable 2.5" Hard disk Enclosure SATA and SDD
• High quality aluminum housing for optimal heat dissipation
• Screwless design - easy to build in a hard disk
• Suitable for all 7.5mm & 9.5mm 2.5" SATA I, SATA II, SATA III HDD / SSD
• Transfer rate: up to 5 Gbps
• Including USB-A to USB-C cable & USB-C to USB-C cable
• Screwless design
• Support Plug & Play

This Nedis 2.5'' HDD Enclosure allows you to create your own portable hard disk. Simply mount your own desired hard disk in the external enclosure and make backups or bring your files, photos and movies everywhere.

Your hard disk will be kept cool because of the excellent heat conduction of the aluminum enclosure. The HDD enclosure is suitable for SATA III hard disks but also backwards compatible with SATA I & SATA II hard disks. You can enjoy high-speed data transfers up to up to 5 Gbps.

It comes with two cables so it can be used on both USB-A as USB-C ports. The screwless design makes it easy to build in your hard disk.
Packaging
Package contents
• 2.5" HDD enclosure
• Quick start guide
• USB-C to USB-A cable
• USB-C to USB-C cable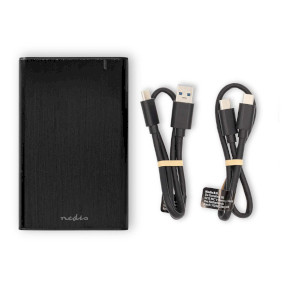 Retail package dimensions Giftbox with eurolock
| Width | Height | Length |
| --- | --- | --- |
| 82 mm | 148 mm | 37 mm |
Logistic dimensions
| Packed per | Width | Height | Length | Weight |
| --- | --- | --- | --- | --- |
| 1 | 40 mm | 150 mm | 85 mm | 151 g |
| 6 | 100 mm | 165 mm | 230 mm | 1008 g |
| 24 | 255 mm | 195 mm | 400 mm | 4360 g |
Product specifications
Width
13 mm

Height
78 mm

Depth
122 mm

Weight
113 g

Colour
Black

Material
ABS
Aluminium

Power source type
USB Powered

Input voltage
5 V DC

Power plug
USB

Housing
Aluminium

Disk size
2.5 "

Connection
USB Type-A
USB Type-C™

Functionality
Enclosure

Disk type
SATA

Appliance
PC
Notebook

Input current
0.9 A

Number of Products in Package
1 pcs

Connection type
USB 3.1 Gen1

Maximum harddisk capacity
8000 GB