SmartLife Mobile Air Cooler
Home & Living/Climate/Air Coolers
SmartLife Mobile Air Cooler
Watertank capacity: 5 l | 3-Speed | 215 m³/h | Oscillation | Remote control | Shut-off timer | Ionizing function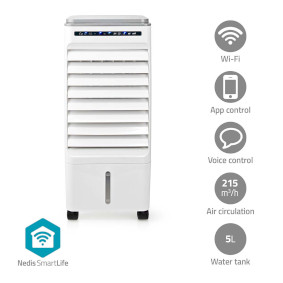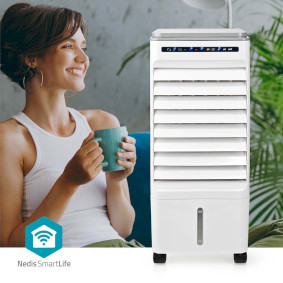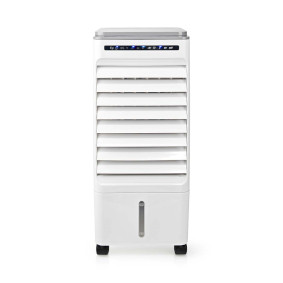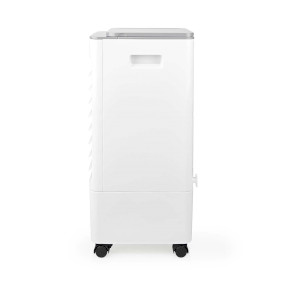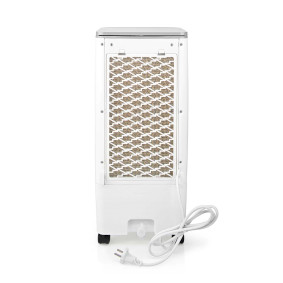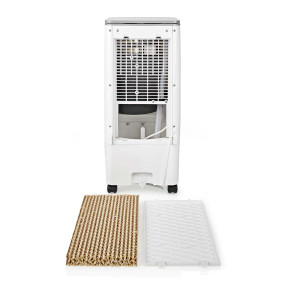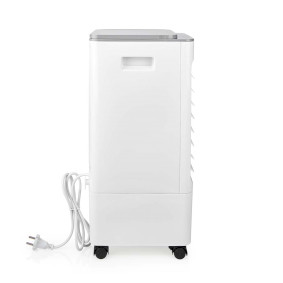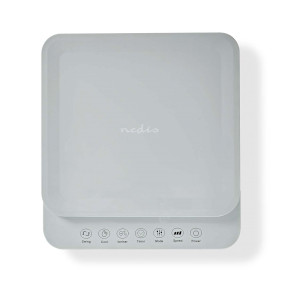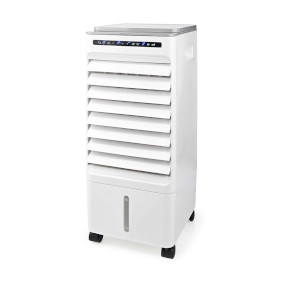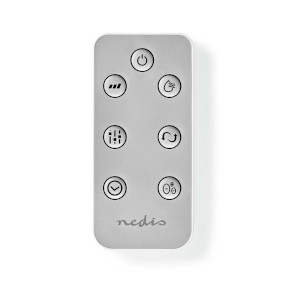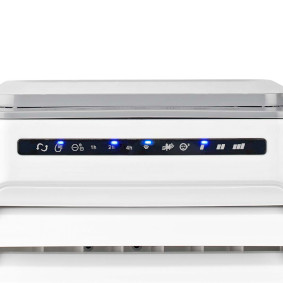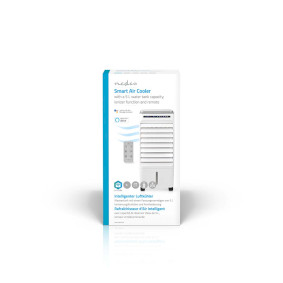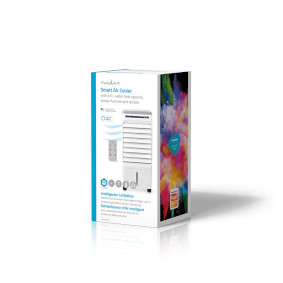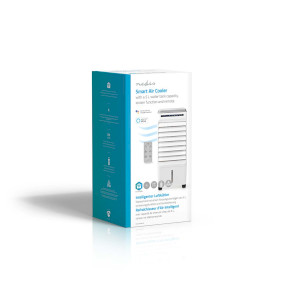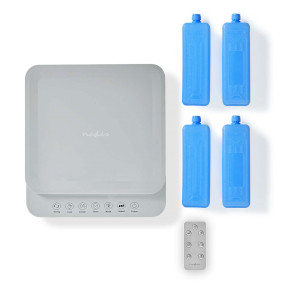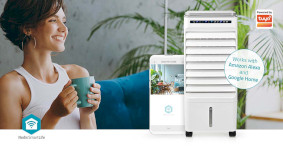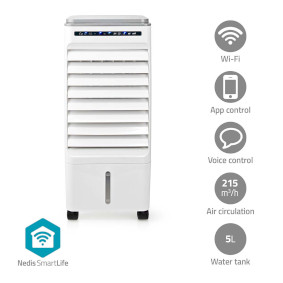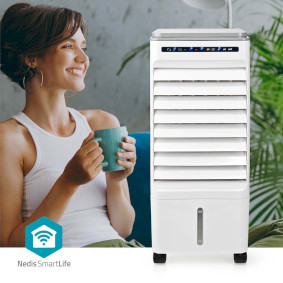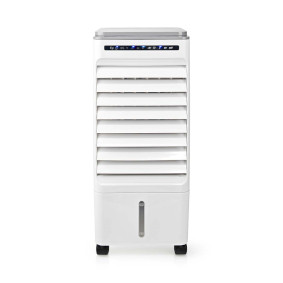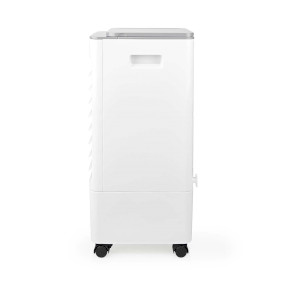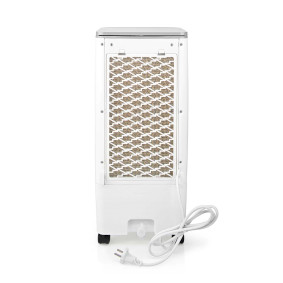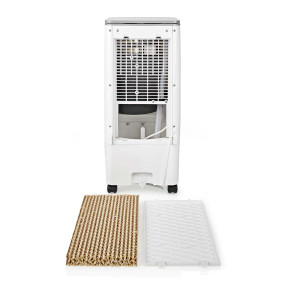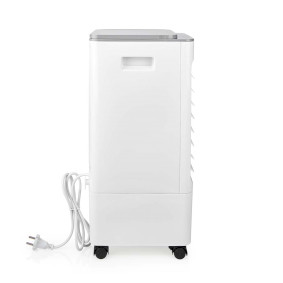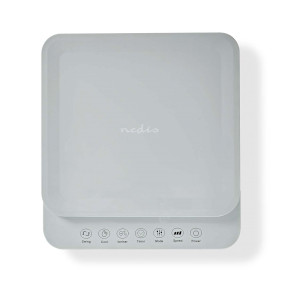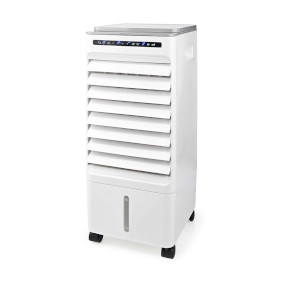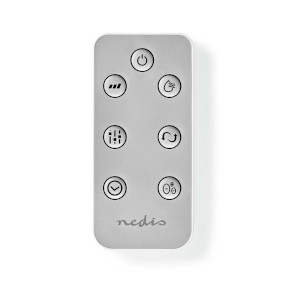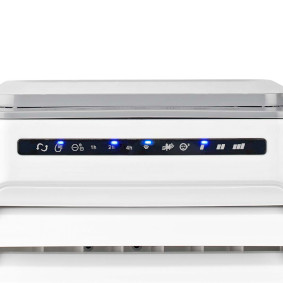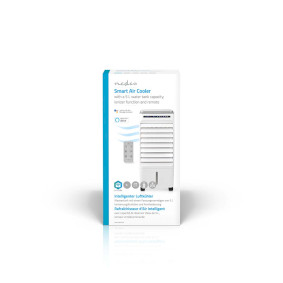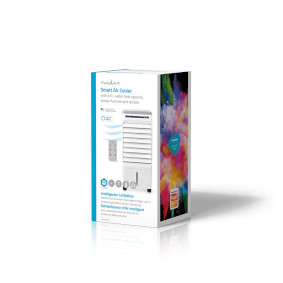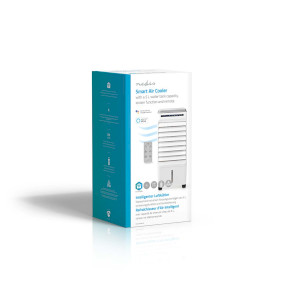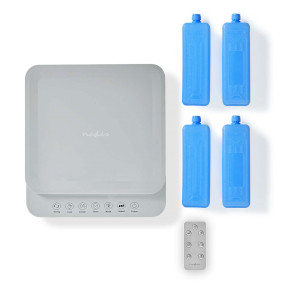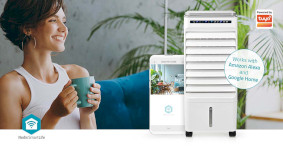 Features
Vendor Part Number: COOL116CWTW
EAN number: 5412810414895
• Smart air cooler- remote controllable with Wi-Fi
• Automatic air swing to distribute the cool air evenly throughout the whole room
• Including four ice packs to further enhance the cooling performance
• No exhaust hose, providing maximum flexibility - no drilling of holes or available windows required
• Produces humidified air - no dry air that could irritate your eyes or throat
• Uses less energy than most aircons
• Adjustable speed plus fan-only option
• Relatively lightweight compared to air conditioners and with stable swivel wheels - easy to move around
• Timer function - to turn off the air cooler automatically after a preset time
• Remote control for maximum operating convenience
• Easy to fill water tank - Refill the water tank via the top
• Ionizer function - for extra clean air
• Supports voice control i.c.w. Google Assistant and Amazon Alexa
• App controlled: operate and program the air cooler via the free Nedis® SmartLife app
• Note: the air cooler is not an air conditioner: it doesn't actively cool a room like an air conditioner does but it is more effective than a regular fan




If you're in need of a more powerful and efficient breeze than produced by a regular fan and you have no available windows to open, or just don't want to drill holes for an airco exhaust hose. This Nedis Smartlife air cooler provides the perfect solution.

Connect the smart air cooler to your WiFi network and download the Nedis SmartLife App. You can easily control the air cooler from a distance with the App or use voice activation with Google Assistant or Amazon Alexa. The air cooler is also equipped with a remote control as standard. So you no longer have to take an unnecessary step to cool down. Is your WIFI lost for a while? Don't worry, because then there is always the control panel on the air cooler itself.

The air cooler works as follows: it pulls in dry, hot air which is passed through a moistened pad, this pad absorbs the heat and the moisture in the pad evaporates, cooling the air with a few degrees for you to enjoy an invigorating, refreshing breeze. Compare it to spending a hot summer day on the water: even though temperatures are high, it still feels pleasantly cool.

The humidified air is blown back into the room so you won't face that dry air which comes with air conditioners.

The ionizer function helps to minimize the dust in the atmosphere and to remove odors from the room.

Very easily to refill the water tank via the top.

Including four ice packs to further enhance the cooling performance.
Packaging
Package contents
Smart Air Cooler
Remote control
4 x Ice Packs
Quick Starter Guide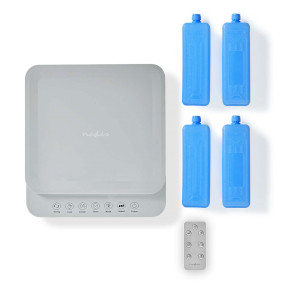 Retail package dimensions Giftbox
| Width | Height | Length |
| --- | --- | --- |
| 310 mm | 610 mm | 285 mm |
Logistic dimensions
| Packed per | Width | Height | Length | Weight |
| --- | --- | --- | --- | --- |
| 2 | 580 mm | 630 mm | 320 mm | 10600 g |
Product specifications
Width
238 mm

Height
560 mm

Depth
268 mm

Weight
3900 g

Colour
White

Power source type
Battery Powered
Mains Powered

Cord storage space
Yes

Input voltage
220 - 240 V AC 50/60 Hz

Material
Plastic

Compatible with
Nedis® SmartLife

Water level indicator
Yes

Power cable length
1.50 m

Movable
Yes

Adjustable air exhaust
Yes

Display
LED

Remote control
Yes

With wheels
Yes

Operation modes
Cooling / Dehumidification / Fan

Oscillation
Yes

App available for
Android™
IOS

Maximum transmit power
17.5 dBm

Transmit frequency range
2400 - 2484 MHz

Integrated handle
Yes

Shut-off timer
Yes

Noise level
55 dB

Removable water reservoir
No

Automatic air swing
Yes

Wind modes
Normal/Nature/Sleep

Power plug
Euro / Type-C (CEE 7/17)

Ionizing function
Yes

Number of speed settings
3-Speed

Supported wireless technology
Wi-Fi

Maximum power consumption
65 W

Air circulation
215 m³/h

Watertank capacity
5 l

Maximum evaporation performance
0.7 l

Room size capacity
0-32 m³

Number of Products in Package
1 pcs

Control Through Mobile App
Yes

Power
65 W

Maximum transmit antenna gain
2,5 dBi

Fan speed
High / Medium / Low

Required batteries (not included)
1x CR2025

SmartLife
Yes