Lighting/Decorative Lighting/LED Lights
SmartLife LED Strip
Wi-Fi | Cool White / RGB / Warm White | SMD | 5.00 m | IP65 | 2700 - 6500 K | 960 lm | Android™ / IOS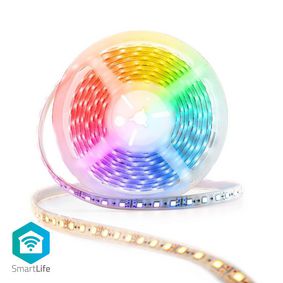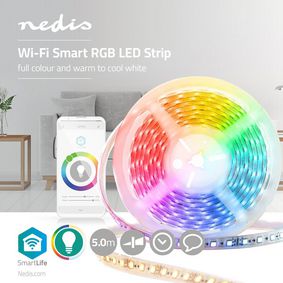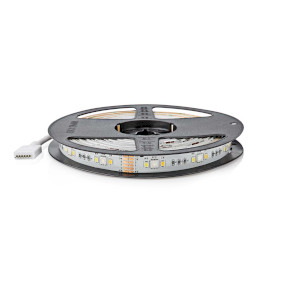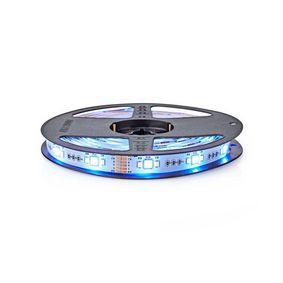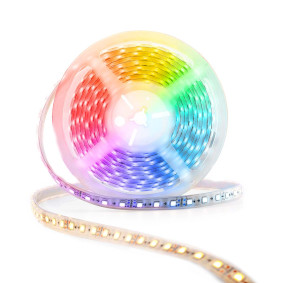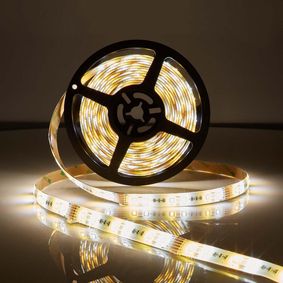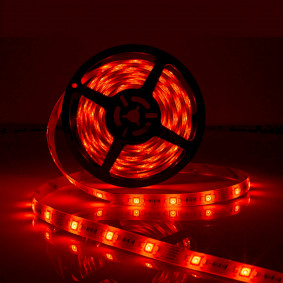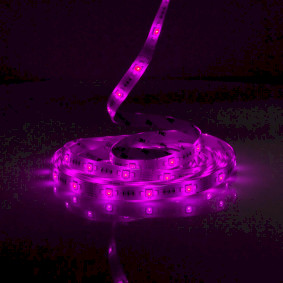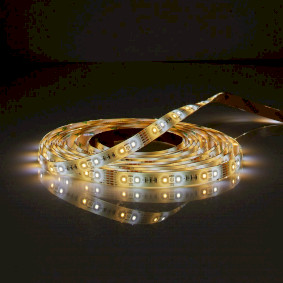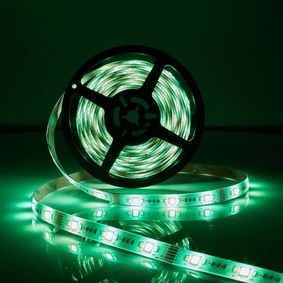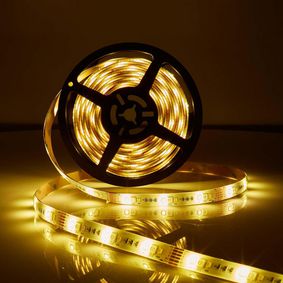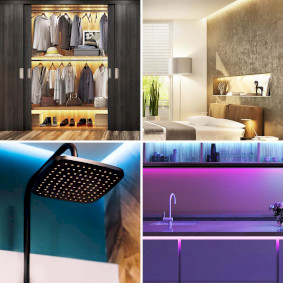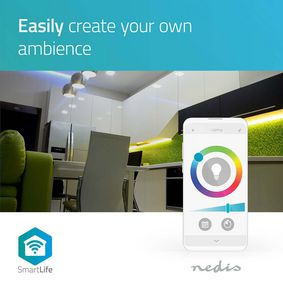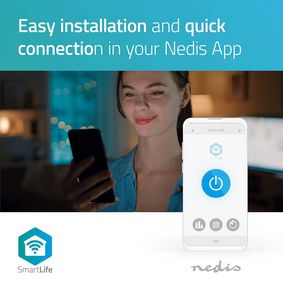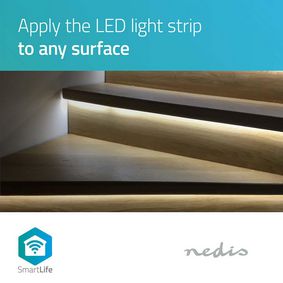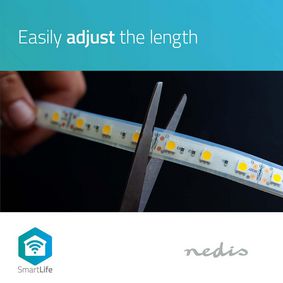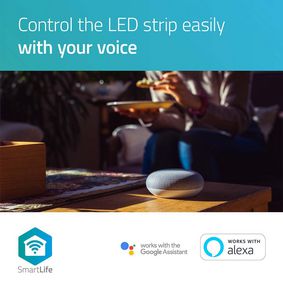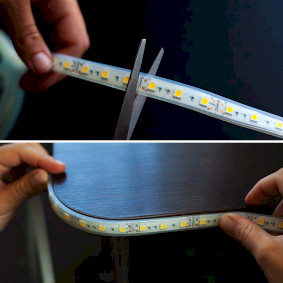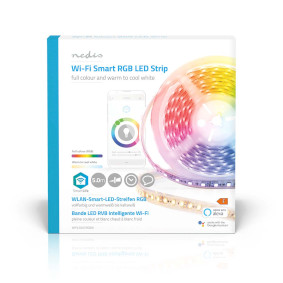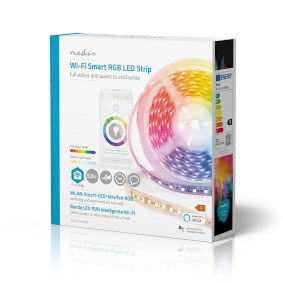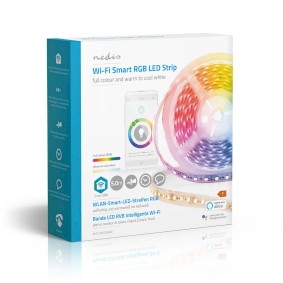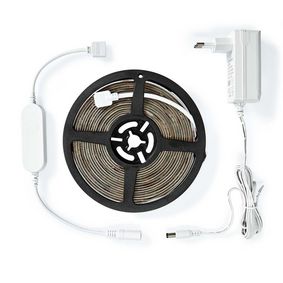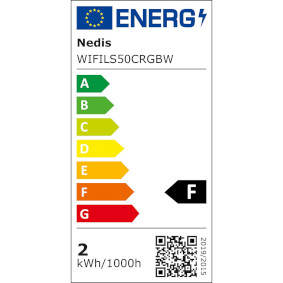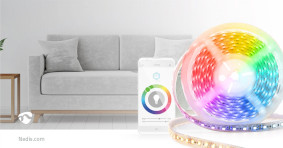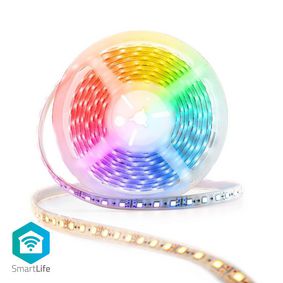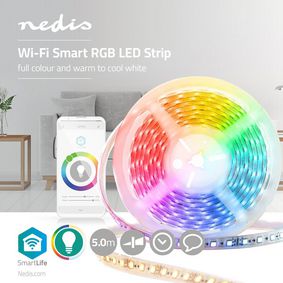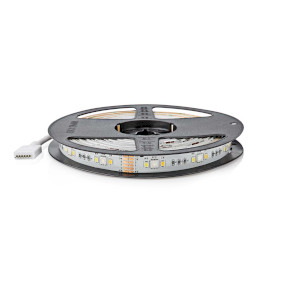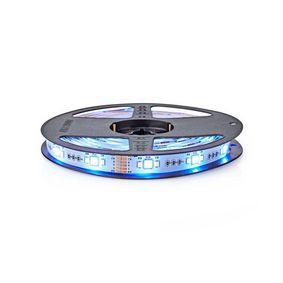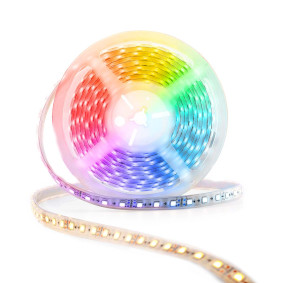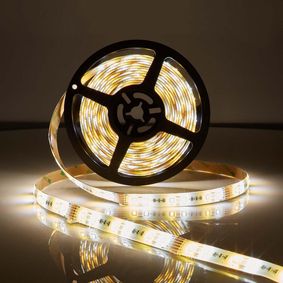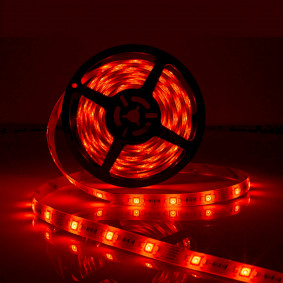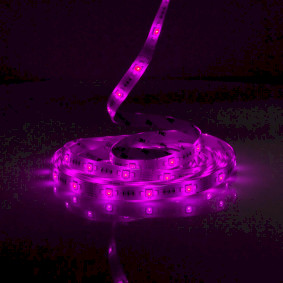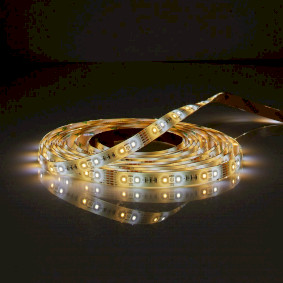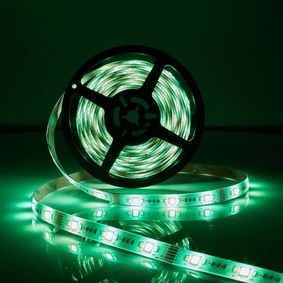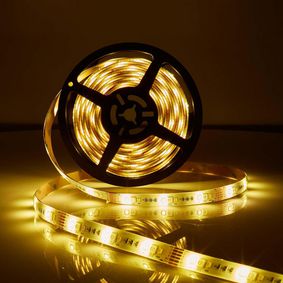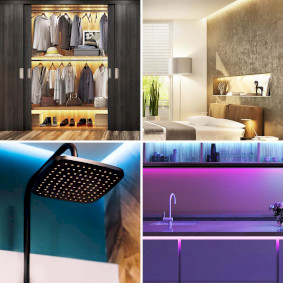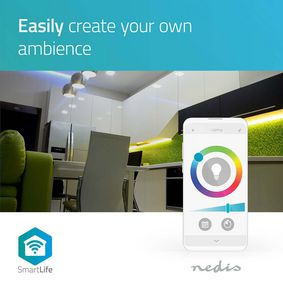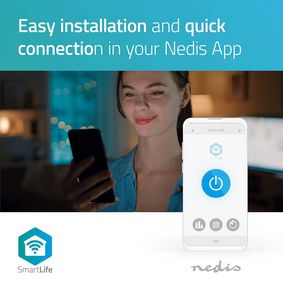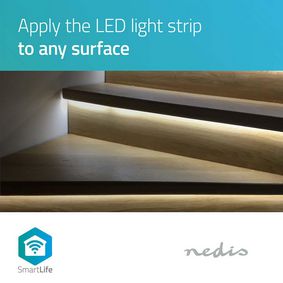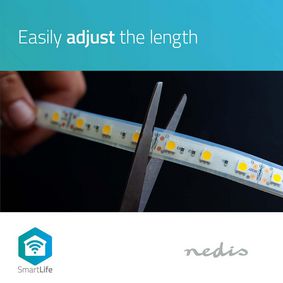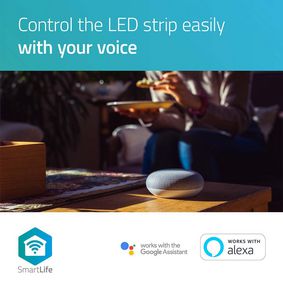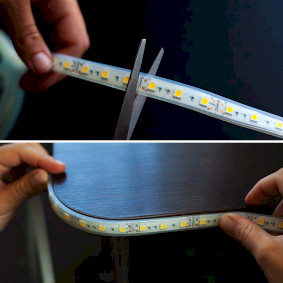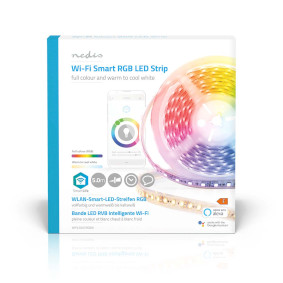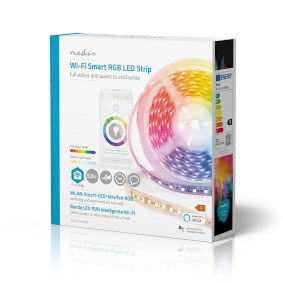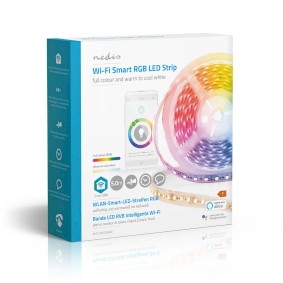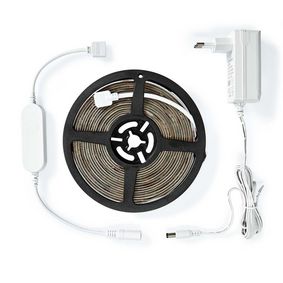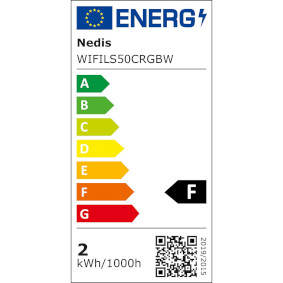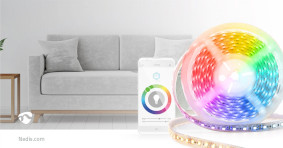 Features
Vendor Part Number: WIFILS50CRGBW
EAN number: 5412810303106
• Easy to set up - simply connect to your Wi-Fi to set, control and schedule this LED strip
• Control the brightness and colour (RGB) or you can select a hue from warm to cool white to perfectly match your mood
• The strip can be shortened or extended - for endless possibilities
• Double sided adhesive (3M) already placed - for easy installation
• Works as stand-alone smart light - or pair it with other SmartLife products to create an entire smart home




Use this smart LED strip to set the mood in any room. Control it in the Nedis SmartLife application, set schedules or automations or use your favourite voice assistants to control the brightness and colour of the LED strip. It connects directly to Wi-Fi, so no separate hub is required.
As this LED strip combines both RGB as well as warm and cool white LEDs, you can not only set any preferred colour, but also use it for warm to cool white indirect lighting
Its 5 metre length can be shortened or extended with similar LED strips for endless possibilities
The double sided adhesive (3M) is already placed for easy installation on any clean and flat surface.
Packaging
Package contents
RGBW LED strip (5 m)
Wi-Fi controller
Power supply
Quick start guide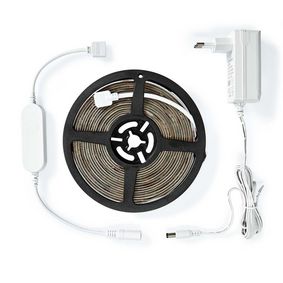 Retail package dimensions Giftbox with eurolock
| Width | Height | Length |
| --- | --- | --- |
| 50 mm | 190 mm | 185 mm |
Logistic dimensions
| Packed per | Width | Height | Length | Weight |
| --- | --- | --- | --- | --- |
| 1 | 182 mm | 50 mm | 210 mm | 415 g |
| 8 | 195 mm | 245 mm | 420 mm | 3720 g |
| 32 | 410 mm | 440 mm | 510 mm | 16000 g |
Product specifications
Width
151 mm

Height
8 mm

Depth
5000 mm

Weight
310 g

Maximum power consumption
15 W

Input voltage
220 - 240 V AC 50/60 Hz

Maximum transmit antenna gain
2.5 dBi

Compatible with
Nedis® SmartLife

IP rating
IP65

Power adapter cable length
1.50 m

Maximum transmit power
16 dBm

Colour rendering index (Ra)
80

Light colour
Warm White
Cool White
RGB

App available for
Android™
IOS

Power plug
Euro (CEE 7/16)

Dimmable
Yes

Rated life time of lamp
20000 h

Supported wireless technology
Wi-Fi

Cuttable
Yes

Energy consumption per 1000 hours
15 kWh

Mount
Surface Mounted

Material
Silicone

Extendable light strip
Yes

Transmit frequency range
2412 - 2484 MHz

Number of Products in Package
1 pcs

Device power input connection(s)
DC

Colour temperature
2700 - 6500 K

Energy class
F

Rated luminous flux
960 lm

Colour
Multi Colour

Cord length
5.00 m

LED Type
SMD

LED module
SMD 5050

Number of LEDs per meter
90 pcs

SmartLife
Yes

Support
Declaration of Conformity
English
Other languages
Frequently asked questions
Can the strip light up in multiple colours at the same time?
No, the LED's are not individually addressable.

My LED strip does not want to install with the EZ mode installation.
Please try the AP mode.

Make sure that you use a 2.4Ghz wifi network.

Reset the controller so the LED strip blinks slow. (press and hold the button on the controller)

If it blinks fast, reset it again and it will blink slowly



In the app:

+ > [your device] > tap on EZ mode and select AP mode > confirm it was reset > fill in the info of your wifi network > follow the steps in the app.



Hold your phone very close to the plug during the installation

This method uses a direct connection to the device to send the info of your wifi to it.

Holding it close optimises this connection
Can I just take the adhesive strip off?
Ensure that you only take off the plastic protection and not the entire adhesive strip.
If you remove the whole strip, you will not be able to stick it to anything.
Yes, you can purchase another set and plug the second strip in the first one.
If you extend it to 10m (5m extra) then you might see some loss in brightness at the end of the second strip.
We recommend you install multiple complete sets and group them in the app.
Now you can control all of the strips as if they are a single strip without any loss in brightness.
Can I give other people access to my Smartlife devices too?
Yes you can.
Each person needs a unique account on their mobile device.
To add them as "family members" follow these steps:
In the main screen of the app tap on the name of your home (top left)
Tap on Home management
Tap on the name of your home again.
Tap on "add family members" and fill in the account details of the person you want to add.
It will give them access to all the devices in your home as a normal member or admin (you can select this)

If you only want to share a single device in a home, go to the settings menu of the device and select "share device" -> add member.
My Smartlife products lose the Wifi connection every time.
This is probably a Wifi problem, this can be for various reasons.
1.) Wifi signal is unstable.
2.) Wifi signal is too weak.
3.) Using an access point with the same SSID and password that do not support the IEEE 802.11R standards.

Problem 1 can often be solved by restarting the router.
Problem 2 can be checked with an app Wifi analyzer with this the signal can be viewed and corrected to a better position.
Problem 3 can be checked as the access points are turned off, the Wifi signal is still good and the connection remains if the access points are a problem, a Mesh solution can then be used.
Please make sure that they support IEEE 802.11R standard.