HD Wildlife Camera | 16 MP | 3 MP CMOS
Photo & Video/Cameras/Action Cameras
HD Wildlife Camera | 16 MP | 3 MP CMOS
Brand: Nedis
Article number: WCAM130GN
EAN number: 5412810315895
HD Wildlife Camera | 16 MP | 3 MP CMOS
Vendor Part Number: WCAM130GN
EAN number: 5412810315895
Capture that one special moment in glorious detail on camera. A video of a flock of deer running through the forest or a snap of that bear or wolf exploring.

Of course, you will need some help from mother nature and a little bit of luck, but when the moment occurs this Nedis® wildlife camera will be ready to preserve the memory forever.

During the daytime and at night this camera will give you amazing wildlife pictures.

It activates and turns off automatically, ensuring your batteries last a very long time and that the camera can be on stand-by for months.
Features
• The camera shoots pictures with a max. of 16 MP and Full HD video • Black camera LEDs for a nearly invisible flash to ensure animals are not scared off • Daytime range of 20 metres • In-built night view providing a range of 15 metres after sunset • Also suitable for object surveillance
Others also bought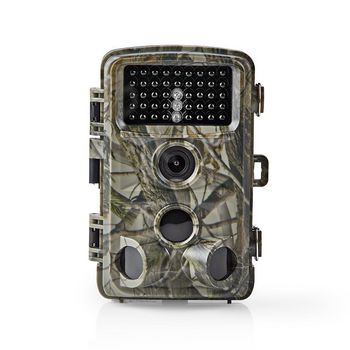 HD Wildlife Camera | 16 MP | 5 MP CMOS
Package contents
1 x camera
1 x USB cable
1 x strap
1 x manual
Product specifications
Viewing angle
90 °

Detector angle
60 °

Battery type
4x AA/LR6
8x AA/LR6

Storage type
microSD

Night vision
15 m

Type
Camera

Interface
DC

Camera design
Detector

Megapixel
16 MPixel

Wireless technology
No

IP rating
IP66

Feature
Very low Energy Consumption

Input voltage
6 VDC

Image chip
CMOS 3 Megapixel

Detector range
20.0 m

Operating temperature
-30 - +70 °C

Infrared type
Black No-Glow IR

Trigger time
0.6 s

Colour
Leaves/Green

Screen size
2.36"

Video resolution
1080p 30fps

Frequently asked questions
With gentle shaking the camera, a black plastic ring pushes against the lens. Is that normal?
Sometimes the IR filter is in front of the lens, when the camera is turned off. The camera is not faulty. When the camera is on, it will fix itself to the right place in front of the lens.
You may be also interested in these product(s)